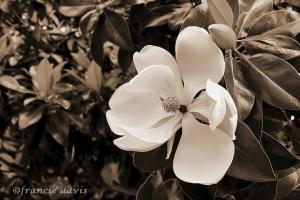 Francie Davis is an award winning, Delaware based Nature/Landscape Photographer and is known for her spectacular sunsets and stunning reflections. She is an avid lover of nature and holds a deep respect for all God's creatures, great and small. She considers her photographic journey an ongoing love affair with the beauty and wonder of Mother Nature.

"I find myself drawn to the beauty that surrounds us on a daily basis, whether photographing the large, bright eyes of one of my several kitty cats, or the awesome rays of the fading sun as it peeks through the evening clouds. My love of all things beautiful keeps me constantly challenging myself to learn more ways to capture this amazing world we live in."

Along with winning several awards since her return to photography, Francie's photographs have been featured in several publications and used on several websites. Some are these highlighted below:


Published:
2014 Photographer for 6th annual (Save the...) BreastFest
2014 Promo photos for local classic rock band Something Grey
2014 Several photos used in Wings & Wheels commercial on local Comcast television stations
2014 "Sepia Airplane" selected for Canon Facebook cover page
2014 "Tanner's Ridge" published in the Richmond Times-Dispatch, March
2014 "After the Storm 2" used for Canon Facebook cover photo
2014 "Gateway Marina 3" Included in the Virtual Exhibits-International Women's Exhibit 2014
2013 Wings & Wheels Festival website, Georgetown, Delaware
2013 Wings & Wheels Festival, Georgetown, DE Special Insert/Sussex County Post
2013 "Red Beach Umbrella" photograph selected for Canon Facebook cover photo
2013, 2012, 2011, 2010 Band Promo Photographs for Semiblind & Semiblind Acoustic
2011 Official Photographer for 3rd annual (Save the…) BreastFest
2011 "Ricketts Glen Pennsylvania" selected for Endless Mountains Visitor's Guide
2011 Delaware Breast Cancer Coalition/ Volunteer Spotlight Photo
2011 Interview by Barbara McDevitt of Rose Cottage Gallery
2011 Interview by Christi Kraft of Christi Kraft Photography
2010 "Shells in sand" selected for Photographer's Edge Catalog
2010 "Lilac Bloom" York Photo/Online Contest/1st Place
2007 Film photography, photos displayed as "The Butterfly Lady" at local Photo Center
2007 Several photos used on Lapel Pins
2006 Winter tree/ "How to Photograph Falling Snow"/New York Institute of Photography

Contests and Awards:
2015 "Evening Walk" ~ Ducks in a Row contest on Fine Art America/1st Place
2015 "Sunset On Fire" ~ Lines In The Sky - Contrail Photographs contest on Fine Art America/2nd Place
2014 "Indian River Inlet Bridge" Honorable Mention/BW Category/Ward Museum of Wildfowl Art, Salisbury, MD.
2014 "Sunset at Choptank River Lighthouse" ~ The USA / State of MD contest on Fine Art America/1st Place
2014 "Blue Eyed Kitty" ~ Our 4-Legged Friends Logo contest on Fine Art America/1st Place
2013 "Red Tailed Hawk 2" ~ Portraits of Birds of Prey contest on Fine Art America/1st Place
2013 "Bear Went Over the Mountain" Winner of Wildlife Category, Scenic Virginia
2011 Carousel Photo Contest sponsored by Rose Cottage Gallery 1st & 2nd Place

Everyman Photo Contest:
2014 "Humming in the Rain" (not currently on AW/FAA) in Top Ten of 5 judges
2014 "Wavy Reflections" in Top Ten of 2 judges
2012 "Pow Wow" in Top Ten/ 4 judges & Honorable Mention
2010 "Black & White Shells" in Top Ten of 1 judge
2009 "Duck Family" in Top Ten of one judge
2009 "Heron Reflections" in Top Ten of one judge

Delaware State Fair:
2015 Seven 1st Place Ribbons, four 2nd Place Ribbons, three 3rd Place Ribbons
From 2010-2014, Francie has won a total of 26 ribbons

Wicomico Farm & Home Show:
From 2011-2013, Francie has won a total of 34 ribbons, including Best in Show for both Color and Black & White Photography

Francie's photographs are available as acrylic, art, canvas, framed, or metal prints, greeting cards, iPhone and Galaxy phone cases, and Throw Pillows. Her simplistic style is sure to look great in your office or home.

You can also find Francie at:
Facebook
Shutterfly
Google+
Twitter


All photographs are copyrighted & owned by Francie Davis.