Group Administrator
Join Group
Invite Others to Join
Group Overview
This group was started on January 23rd, 2012 and currently has:
RSS Feeds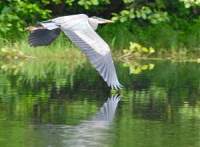 About This Group
The great blue heron is a striking bird. Prehistoric in look, awkward in physique, it somehow manages to be amazingly graceful. It has strong predatory instincts. So, while one minute it can be astounding your eyes with its beauty, the next it can be horrifying you with its brutal attack on the smaller wildlife around it.
The great blue heron is a difficult bird to capture well 'on film'. Its long body and generous wingspan pretty much guarantee that one part of your image will be out of focus when taking a picture of the heron in flight. And you have to have a good camera and lens to successfully track it in flight.
Often the bird will sit still along a shoreline. I find that at the start of a season any new heron to the pond near me will not allow me within 40 feet of it. Sometimes, though, by season's end, it will be far more tame and I can get within 15 feet of it - but then, only if it feels secure behind some scrub or it is so wrapped up in the hunt, I am not a priority to it! Then I might get a good shot - if the lighting is right!
There is no staging a shot when taking pictures of wildlife around a pond, as I do.
In this group, I hope that photographers and other artists alike will talk about their experiences within their craft with the great blue heron. And please share your images!
Thanks for visiting this group. Hope you'll join!