Group Administrator
Join Group
Invite Others to Join
Group Overview
This group was started on January 28th, 2013 and currently has:
RSS Feeds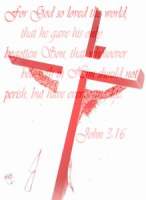 About This Group
READ GROUP DESCRIPTION BEFORE ENTERING YOUR WORK
Anything to do with Jesus Christ, our Lord and Savior. From all the way in the Old Testament to the New Testament, and spiritual in nature. Nothing satanic, no nudes, NO NUDES MEANS NO NUDES!!!!! or anything that would/will discriminate our God.
DESCIMINATING GOD
Means making a mockery. Poking fun. Making Jesus Christ as a woman. That to me is disciminating God.
And again...... NO NUDES!!!!... NO NUDES!!!... NO NUDES!!! NO N U D E S...
This is a group to help etify one another, to lift one another in spirit through the will of our Father. If you like to become a member. I ask that you take a few moments to browse through our images that has already been selected and place either a comment and or a vote. This is to help one another to get our art out there into the world. To help shine and glorify our Lord God for the gift He has given to us becuase we are willing servants that acknowledges that thier is only one true and only God.
READ THIS PART ABOUT THE SUBJECT
If the picture that you provide does not look like it a has anything to do with the group subject of Christianity, put something in your description that could be related. For example, look at either one of my pictures 'Iron Will' or look at 'Nate's Walk' by Armand P. Roux.
If you know of any other artist or photographers that has inspirational pictures about Christ, send them our way. Thank you.
Your brother in Christ Jesus,
Justin Moore