Group Administrator
Join Group
Invite Others to Join
Group Overview
This group was started on August 5th, 2012 and currently has:
RSS Feeds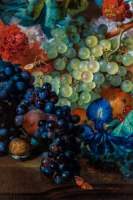 About This Group
This group is dedicated to those who are passionate about the Dutch Golden Age art and painting in particular. The Dutch Golden Age happened mostly during the 17th Century in the territory today known as The Netherlands and Belgium. The Dutch became the freer and most prosperous country at the time mostly through trade and hard work. Because the Netherlands were mostly protestants, painters could not seek the church patronage as was usual in the rest of Europe. Dutch masters had for the first time to find patronage in the free market and they did. This is the time that produced Rembrandt, Vermeer, Peter Claesz, Willem Kalf, Ambrosious Bosschaert, Jans Davidsz de Heem, Van Dyck and many others.
This group welcome images that look like paintings AND that can be considered:
- Vanitas
- Flower Bouquets
- Ontbijts or Breakfast pieces
- Banketjes
- Pronkstillevens
- Genre
- Historic
- Re-creations and variations of paintings from this period
Please make sure that photographic images have a painting-look.
**** THERE IS A LIMIT OF 2 IMAGES PER DAY ****