Group Administrator
Join Group
Invite Others to Join
Group Overview
This group was started on April 11th, 2013 and currently has:
RSS Feeds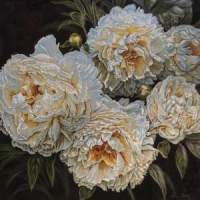 About This Group
Welcome, all traditional artists!
Membership Requirements:
1) All artwork submitted must be created by hand, and may only be drawings and paintings using, for example, pencil, pen and ink, charcoal, pastels, oil, acrylic, watercolor, etc.
2) No photographs, digital art, sculptures, or ceramics images are allowed. No images are accepted with photography, photo, digital art, digital painting, computer art, computer painting, etc., listed. Mixed media should state the media and cannot include photos or digital work.
3) No overtly political or religious themes, or depictions of sexuality or graphic violence. This is a family-friendly group.
4) All work must be your own original work, and no reproductions or copies of other artists' works are accepted.
5) You may not submit images with superimposed text (words, numbers, etc.). You may submit images with text that's an integral part of your artwork (e.g., the artist's name and title of the work, or a painting or drawing of a restaurant with its name on the facade, or a surface used to paint or draw on with text printed in the background).
6) Images should follow FAA/Pixels requirements on the Upload New Image page, re: enlarging, compressing, cropping, motion, illumination, and flash issues.
Our goal is to promote artists who create traditional drawings and paintings, so please share other group members' work via your social media and participate in our group's Discussion threads, to help publicize your own and other members' artwork.
Our group's Logo, upper left, is 'Ellie's Touch' Colored Pencil by Pamela Clements
(http://fineartamerica.com/featured/ellies-touch-pamela-clements.html), 2/7/2017 – 5/7/2017.
ART COLLECTORS AND GIFT BUYERS
Enjoy artwork by artists who create drawings and paintings using only traditional methods. In addition to the Featured Images, below, please browse through our gallery via the Images tab, and the artwork posted via our Discussions tab.
ADMINISTRATOR'S PICKS, 2/20/17 – Congratulations to our new Admin's Picks, showcasing 'Wings'! Please visit these artists and their work (posted in alphabetical order, by artist's name) to congratulate, like, fave, and share: