Group Administrator
Join Group
Invite Others to Join
Group Overview
This group was started on April 11th, 2013 and currently has:
RSS Feeds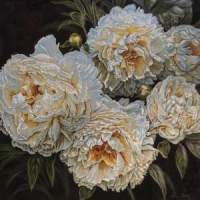 About This Group
ABSOLUTELY NO DIGITALLY CREATED IMAGES OF ANY KIND! This group is exclusively for drawings (pen and ink, pencil, charcoal, etchings, etc) or paintings (oils, acrylics, watercolor, oil pastels, etc). Absolutely NO photography or paintings created on a computer. Uploaded images to the group will be limited to only drawings and paintings and any photographs or digital art submitted will be deleted. While we appreciate the art that goes into photography and photo manipulation and computer created art, this group is just for those who use traditional tools (brushes, pencils, etc) and materials to create their work. So, once again, that means NO DIGITALLY CREATED IMAGES!
I am rejecting every entry over the first one submitted in one day. So, if you add two images to the group, I will reject the second one, even if I think it's better. Also, it has been brought to my attention that some people have been uploading images that were created using photographs that have been manipulated using programs such as Waterlogue. It can be hard to distinguish between an actual painting and one of these pseudo paintings. If I discover it, it will be rejected and the artist banned from the group!!
Also, I'm all about the 1st Amendment, but let's assume there are kids, or your boss, or your grandmother, looking over your shoulder at the art that you've submitted here. Anything that I think would scandalize my Mom or send my child into therapy will be rejected. Tasteful nudes are fine. The type of images that an adolescent kid might hide under his/her mattress are NOT fine.
Feel free to use the discussion boards to promote your work and share tips, ask questions, or talk about favorite artists.
Please, limit image uploads to ONE PER DAY! Any images beyond the one per day will be rejected. I will be hosting periodic contests, again exclusively for traditional drawing and painting.
MY APOLOGIES!!! Much to my dismay I failed to vote for winners in our latest contest, 'You CAN Get There From Here'. I have chosen the top three, and though it is not 'official', these images will remain featured on our home page until the next contest...
WINNERS OF THE 'You CAN Get There From Here' contest!
First of all, I am thrilled with the work that was submitted to the contest. Everyone should be very proud of their submissions!
In first place I have chosen 'Santa Cruz Dock' by Xuiling Zou... Congratulations!
In second place, 'Waiting Resurrection' by Mia DeLode.... Fabulous job!
In Third place , 'Point Clear - After A Summer Rain - Mobile Bay' by Don F. Bradford... Well Done!
Please take a moment to view their winning images and congratulate them!
Thanks to all that participated in our group contest!
Congratulations to the winners and thanks to all who participated!