Group Administrator
Billings, MT
United States
Join Group
Invite Others to Join
Group Overview
This group was started on November 11th, 2013 and currently has:
RSS Feeds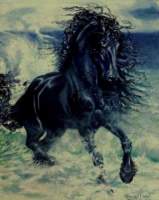 About This Group
Any image (painting, photo, digital, etc.,) of a Friesian horse.
The Friesian happens to be on the top for favorite horse. A medium draft (warm-blood) which is gentle, majestic, elegant, intelligent,and an excellent riding or driving horse; and an awesome subject to paint, draw, or photograph.
Did you know?
Julius Caesar once said he thought the Friesian to be the ugliest horse he had even seen.
Hummmmmmm! In my opinion; he either he was blind, or had poor taste in horses, but that's my opinion. :)
No Nudity please, It is my desire to keep a this a family/child friendly group, so keep that in mind when posting your work.
Featured Images