Group Administrator
Join Group
Invite Others to Join
Group Overview
This group was started on August 25th, 2013 and currently has:
RSS Feeds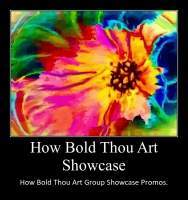 About This Group
Welcome customers and new and current members to HOW BOLD THOU ART group.
This group is marketing the most bold and brightest art work in all mediums for all items sold at FAA.
We are dedicated to those who want bold colors to dominate their artworks, to shine brighter, push paintings and images to the limit using vibrant colors. How bold can you be?
3 submission daily.
Refer to Discussion tab for group rules. NO NUDES.