Group Administrator
Join Group
Invite Others to Join
Group Overview
This group was started on August 25th, 2013 and currently has:
RSS Feeds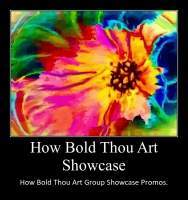 About This Group
We are dedicated to those who want bold colors to dominate their artworks, to shine brighter, push paintings to the limit using vibrant colors. How bold can you be?
We are unique in that we limit home page features. This enables you to focus on a select group of artists at any time and follow my lead to visit, vote, favorite and comment in support. Members can also feature their favorite group artists in the 'Members Choice' discussion thread.
Please review group Rules:
1. Black and white do not qualify as bold colors for submission to this group. All Images / art must be composed primarily of bold colors to be accepted.
2. Paintings and digital art preferred...photographs if altered to promote bolder colors.
3. Limit of two (2x) images per day to provide added exposure for all members.
4. We require a PG rating on submissions. No nudity or violent images.
5. Administrator reserves the right to reject all images that do not match the focus of the group.
You are invited to visit my other art group 'Life Is what Happens' Each of my groups include wonderful artists from around the world.