Group Administrator
Join Group
Invite Others to Join
Group Overview
This group was started on August 28th, 2013 and currently has:
RSS Feeds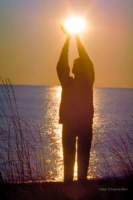 About This Group
This new dynamic group is for those of you who brings light and positive energy through the art or looking for inspiration and positive energy yourself.
All fine art media are welcome: Photography, Digital Art, Fractals, Paintings, Drawings, etc...
This group is open to all realms: Classic, Metaphysical Energy Fine Art, Spiritual, Visionary, Fantastic, Surreal, Natural & Supernatural, Dream...
NO nudity, sexual, political / governmental based, religious or violence! We are a G-Rated, family friendly group. Submit maximum 1 image per day.
Occasionally we will be doing promo events and contests...
As a group we could bring more Light and Positive Energy to the people through the Art.
Thanks
Alex
Special Featured Art