Group Administrator
Join Group
Invite Others to Join
Group Overview
This group was started on May 6th, 2013 and currently has:
RSS Feeds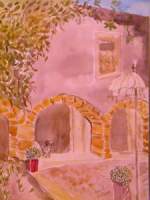 About This Group
Are you painting in watercolor? Than you are welcomed here!
I love the light that emerge from the drawings in watercolor, so I decided to start this group with artist that love the watercolors as much as I do.
It is the first group I create, so I am very curious about how the things will go. Also, I am just a beginner in the watercolor area, so have mercy with my skills to.
I look forward to see your works and thank you!