Group Administrator
Join Group
Invite Others to Join
Group Overview
This group was started on April 16th, 2012 and currently has:
RSS Feeds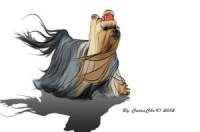 About This Group
All Yorkshire Terriers and Yorkie mixes are welcome !
Yorkshire Terriers are big dogs in little bodies with the terrier personality.
Outgoing, independent, fearless and at times stubborn,
may not be for someone who is looking for a mild mannered dog.
Trademark Traits:
Long, "high-maintenance" coat
Small and cute
Pretty and dainty
Refined
Feisty and vigorous
Fearless
weight: 3 - 7 pounds
height: 7 - 9 inches
All Yorkshire Terriers are welcome !
Featured art: