Group Administrator
Join Group
Invite Others to Join
Group Overview
This group was started on September 21st, 2013 and currently has:
RSS Feeds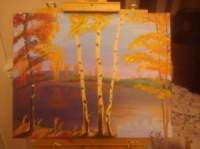 About This Group
paintings of any kind that have TREES in them. black and white, color, abstract, on cardboard, life like, anything but its gotta have trees.
announcement-contest is now being voted on. trees are for me contest,
NEW CONTEST - Paintings of fall. should be linked to here so go ahead and join that one too :)
gotta say there are some dang good art in the trees are for me painting contest. good job guys. some very realistic ones i almost deleted cus they look so real. and some very good abstract art as well. i think im going to do a contest that separates the abstract trees and the real trees. hold a photo one as well.
CONGRATS TO THE WINNERS OF THE LAST CONTEST!!!! sorry still trying to figure this out and was going to feature them on the home page of this but it wont find them so that i can?? idk.
2 NEW CONTESTS!!!!!************* and just like before they gotta be painted. no photos please.
1) abstract trees
2) realistic trees
ya i know i have miz Alter's paintings up twice but i freaking love them. good work. ill put up the contest winners paintings in a few days. cheers members!!