Click and drag to re-position the image, if desired.
The watermark at the lower right corner of the image will not appear on the final product.
Tags:
a fine example of rigobert bonne and guilleme raynal's 1780 map of turkey in europe and asia. this map of the ottoman empire includes the areas stretching from italy iphone 5 cases, hungary iphone 5 cases, and modern day austria in the west iphone 5 cases, to the caspian (caspiene) sea and iran in the east iphone 5 cases, to the persian gulf and egypt's nile delta in the south. includes modern day greece and turkey in their entirety (including the area formerly known as kurdistan) iphone 5 cases, as well as georgia (georgie) iphone 5 cases, armenia iphone 5 cases, jordan iphone 5 cases, israel iphone 5 cases, palestine iphone 5 cases, iran iphone 5 cases
About iPhone 5 Cases
Protect your iPhone 5 with an impact-resistant, slim-profile, hard-shell case. The image is printed directly onto the case and wrapped around the edges for a beautiful presentation. Simply snap the case onto your iPhone 5 for instant protection and direct access to all of the phone's features!
Back View
Angled Back View
Front View
Angled Front View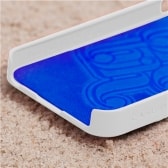 Inside View