Anderson R Moore
Shoerline, WA - United States
Over the last decade, Anderson R. Moore has expanded her means of expressing her views using the ancient art of Silk Painting. In the process of silk painting she is continuing to perfect her own style in a specialized technique taught to her by Karen Sistek, Master Silk Painter from Port Angeles, Washington. Applying dyes to silk with brushes and steam set dyes. Once the dyes have been steamed and rinsed for her wall art, they can be mounted in many different ways. This type of art may be hung essentially without glass enabling the viewer to continue to feel and visualize the natural luminescence of the silk and vibrant colors of the dyes used. Anderson teaches classes in silk painting for beginners and advanced artists in both a classroom setting and private instruction.

Sharing the information gained over the years is truly the way of giving back, teaching classes is a great way to give back. It makes everything else worth the effort, disappointments, stumbling blocks you work hard to get over and then those small triumphs we get to have along the way. Now, coming full circle, the days are filled with art and enjoyment of the inspirational locations traveled. ' My art has become my greatest passion in life, - and is a very deep part of me. Every single day I paint or draw something. I get so much pleasure from being able to do the things I love everyday, and then to make someone smile because of a piece of art I have created - gosh that's worth it all!'
Anderson's work currently hangs in private collections, corporations, world wide. The artists work posted on Fine Art America is here for a limited time and available for reproductions in limited quantities, and then removed. Please contact the artist directly for originals and those which have been removed recently.

For more in depth information about Anderson, or to follow her blog, and to obtain class information please visit her website,(Http://anglersnirvana.com/armoore or Facebook Art Page ( https://www.facebook.com/pages/A-R-Moore/150718800687 ), or follow her on Twitter (@anflyart); Tumblr http://amfineart.tumblr.com/ ; Instagram ARMoorefineart http://instagram.com/armoorefineart .
Christmas Shopping Discount Code
Livermore, CO - December 5th, 2013
Get in early and get out in time for Christmas Use Discount Code LAECUE for a 25% discount on All of Anderson R. Moores Current Artwork. http://fineartamerica.com/profiles/anderson-moore.html?tab=artwork This discount code is valid through 12/11/2013. Enter the code at the time of purchase. Thanks Have a Happy Holiday Anderson
Livermore, CO - October 7th, 2013
Chance's Boots ( Boots N Spurs) a silk painting by local artist Anderson R. Moore was chosen to appear on the cover of issue 7a3 of the local magazine "Discover Fort Collins, Loveland & Northern Colorado". The magazine finally hit news stands last week. The online version is not updated as of yet but should be soon. http://discoverftcollins.com/ The Artist says of the painting, "Of all the things I get a kick out of, it is looking at somebodies boots and spurs. You can tell a lot about a person by them. This is a series of paintings and hope to have the rest soon. The Original is Sold - Hand painting on silk allows the colors to pop, a depth in the silk and transparency can be achieved that is most satisfying to me as an artist." Anderson R. Moore is a Colorado based Silk artist, striving to evoke emotional responses to her paintings and other works through the paint brush. Most ...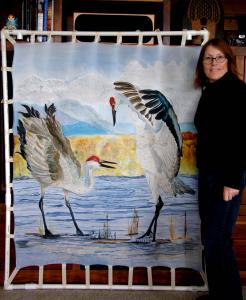 New Art Exhibit- Ratner Museum Bethesda MD.
Livermore, CO - May 5th, 2013
Local Artist Anderson R. Moore to exhibit "The Dance- Sandhill Cranes" a 42" w x 45" h, an original handpainted silk panel, at the Ratner Museum in Bethesda, Maryland from May2, through July 31, 2013, in the SPIN Members Last exhibit at the museum. Artists Description of the painting: Sandhill Cranes Dance-( the Male Bird on Right- Is in a Bow, the female on the Left is doing a Curtsey) - Handpainted with steamset dyes, no resist used. Sandhill Crane body language is ongoing daily with nine distinct displays,showing arousal, and recruits others to dance. During the Dance- Pre- Adult Cranes, will practice dancing for years until they select a mate. Adult cranes dance for each other facilitating bonding, allows rivals to asses one another. Parents educate their young chicks and adolescents by dancing with them. It is believed they will also dance just because they are happy and enjoyin...
Livermore, CO - July 7th, 2012
Anderson R. Moore and Daphne Potter's Two Woman Collaborative Art Show- and art Soire', had a very successful show opening and reception last night. Visited by nearly 300 Art Junkies over the course of the evening. Contacts were made, art was sold and lots of congratulations to go around. There are still three nights of the show to be held, July 7, Saturday, from 3pm-8 pm, Friday July 13th, 6pm- 9pm, and Saturday July 14th, 3pm- 8 pm. Come on down there will be silk painting demonstrations and the chance to win a scarf or two. You can also sign up for individual lessons or group workshops in Silk Painting during the Art Show.
Anderson R Moore And Daphne Potter Open Collaborative Art Show
Livermore, CO - June 21st, 2012
Two Local Artists Open Collaborative Art Show Long time local artists and residents Daphne Potter and Anderson R. Moore (Robin), open their collaborative art show titled "Progressive Work of Dreams, an Art Soirée". The artist's works depict Wildlife, Western, Landscape, and Fly Fishing Art in impressionism, abstract, and realism styles. Their art will be displayed at the Art Lab Fort Collins, in conjunction with the local First Night Art Walk in Old Town, July 6 through July 14. Both artists have been established in the local art market for the past 30 years and will be bringing both of their dreams and artistic visionary aspirations together, spanning the life of their careers as artists for the show. They both grew up on the Front Range and have traveled the country expanding their art boundaries and varied styles. Daphne Potter studied Fine Art and Communication at Western S...
2012 Silk Painters International Festival Juried Art Exhibition
Livermore, CO - June 21st, 2012
Artist Anderson Moore has been selected for the 2012 Silk Painters International Festival juried Art Exhibition, titled; The Road Less Traveled.... New Silk Visions Art Exhibit July 22 – 27, 2012 at the Institute of American Indian Arts, in Santa Fe, New Mexico. Works accepted are: Morning in the Aspen Grove
Anderson R Moore To Particiapte In A Juried Invitational Show
Burien, WA - June 22nd, 2011
Anderson R Moore has been selected to participate in the Copper Flame 7th Juried Invitational Online Event Art Show from June 27th to July 3rd 2011. Her artwork will be on display in the Sussex Room during that time. Please check out the Copper Flame Gallery online at http://copperflame.com . Anderson recently was one of the artists featured in the Today's Artist Spotlight on Fine Art America. She has also been a featured artist in the following artists groups which she participates in, Seascapes in Paint, Fish Artists. If you would like more information you can follow her work on Fine Art America, http://fineartamerica.com/profiles/anderson-moore.html You can also subscribe to her blog at http://fineartamerica.com/rss/blogs/anderson-moore or view all her available work on her website http://www.anglersnirvana.com .
Burien, WA - March 1st, 2011
Anderson was recently added to the February 28th, 2011 online issue flyfishergirl | Filed Under Angling & Sporting Artisans, Anderson's fly art realistically captures both the classic and modern elements of each ingredient, bringing to life the recipe for each fly painted as if tied. Her fly fishing lifestyle is portrayed on the visual images she creates. This artist's ability to capture and bring all of these elements alive in her body of work continues to move her forward in the art world. By www.FlyFishergirl.com FLYFISHERGIRL.COM aims to become an online resource for women's, ladies, and girls fly fishing and outdoor adventure travel. We want to provide the real dirt on fly fishing tips, tricks, gear, fishing reports, and travel and guide recommendations. At the same time, we want to keep things real, and provide an outlook on angling from the female perspective.