Angela Pari Dominic Chumroo
Dudley, NC - United States
Angela Pari Dominic Chumroo
I am an Impressionist born in 1976, inspired by Monet and his impeccable impressionism. Beginning painting and drawing as a little child, I never let go of the medium I was using. As I grew older I began to move both hands simultaneously while painting. Utilizing just the left hand had no longer appealed to me. Both seemed more interesting.
Spending time outdoors, painting, and exploring new techniques I master with oils are great joys. Manipulating lighting and the impressionist effects while I paint are what I appreciate the most. I was born in the small town of Big Rapids, Michigan. Later we moved to Florida where I lived most of my childhood. My teen years and young adult life I resided in the beautiful city of Muskegon, Michigan. Drawn away from freedom I visited the wrong place and from 2010 to 2012 I was held captive on the island of Mauritius. There I was allowed the privilege of painting in return for letting my captors the benefits of these artworks. The most impulsive pieces of my artworks were created while I was in the country of Mauritius. Now I am back home in America and continue to live in Muskegon near Lake Michigan. It is here I enjoy painting, studying languages, and law. Art to me is the bold reality of life. In every way it defines me in, every way it grants a way to express myself and see the world as God shows me it. 'When I am being expressive I am chasing rainbows and stealing colors so I can paint that pot of gold'© Angela Pari Dominic Chumroo






All paintings, images, and quotes are copyright © Angela Pari Dominic Chumroo of Do'minic Designs. No Materials contained herein may be reproduced, copied, edited, published or downloaded in any manner or form. All rights are reserved. Any copying,tagging, altering, displaying or redistribution of any of the images without written permission from the Artist is strictly prohibited.




I accept Paypal for purchase of originals, contact me for information.
For licensing or publishing inquiries, contact me at above 'CONTACT' link. or email me here or at parichumroo@gmail.com****
'Like Footprints in the Sand an Artist Always Leaves a Lasting Impression'©Angela Pari Dominic Chumroo

Winners Of Native American Indian Contest
Muskegon, MI - May 16th, 2012
1st and 3rd Place Winner of the Native American Indian Pride contest on Fine Art America is Mia DeLode. 1st Place "It's More Than Just Footwork" http://fineartamerica.com/featured/its-more-than-just-the-footwork-mia-delode.html 3rd Place "Sacred Traditions" http://fineartamerica.com/featured/sacred-traditions-mia-delode.html Mia DeLode is a fourth generation rancher from central Montana. Born and bred to be part of the rural west, she is an accomplished painter, sculptor, and writer of the culture, animals, people and the humor that is unique to western living. Her paintings appear in many shows and her writing has been featured in Crazy Woman Creek published by Mariner books, a three part anthology of western women. Mia has been showing at the C.M.Russell Auction and Show at Great Falls, Montana since 2006 as well as other national shows including the Mountain Oyster in Tucs...
Artist Pari Chumroo Is Impressed With Impressionism
Muskegon, MI - April 17th, 2012
There is a feel about it. A certain essence that leaves me with a comforting feeling. I am positively impressed with impression painting. The colors and the style are very pleasing to my eye. Impressionism was an art movement in the 19th century that originated with a group of Paris-based whose independent exhibitions brought them to prominence during the 1870's and 1880's. Admittedly I favor anything pertinent to France. Someday in my later years I will return again to France to visit the museums and explore more of the art world and history there. It has without a doubt taken me sometime to figure out which style of art I enjoy most painting. Although it has been a long hard road fighting through my busy mind I have came to the conclusion to be a Master Fine Artist in Impressionism. It is my desire to become better with each stroke of the brush. Through impressionism I...
Angela Pari Dominic Chumroo The Fine Artist Invited To Participate Into The Third Round Of The 2012 PROJECT BERLIN
Muskegon, MI - April 1st, 2012
Pari Chumroo aka Angela Pari Dominic Chumroo the Fine Artist is excited to announce that she has been specially invited to participate into the third round of the "2012 PROJECT BERLIN". Fused together Evolution and Revolution she will be producing a unique painting to identify the collaboration between the two and how they can closely resemble one another. 3.9 x 3.3 feet in size on a canvas she will well define Evolution and Revolution in a unique manner in a bold oil painting. Updates as she progresses and submits will be released in a press release.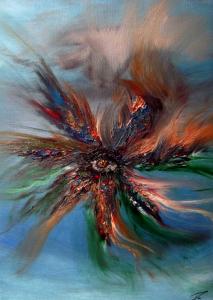 Abstracts And The Hidden Realities
Port Louis, Po - December 18th, 2011
As the New Year approaches Angela Chumroo (aka) Pari Chumroo begins to display her new portfolio which includes a unique Abstract Series. When Angela Pari Dominic Chumroo begins an abstract she does not have a plan other than following the basic rules listed below. She is just living in the moment. Seeking to express the feelings within her soul through a variety of colors and shapes. She enjoys displaying movement in her abstract pieces. Why is movement so important in a pieces? Movement represents life within the painting and defines the core intelligence of the artist. Not only is movement important in an abstract but texture gives the viewer a different aspect on the piece. When a viewer is able to look at the piece from many different angles and see a different perspective on it from each angle this is a manifestation of constitution. A few key elements to movement i...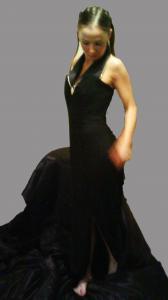 Artist Angela Pari Dominic Chumroo Featured Artist
Port Louis, Po - May 21st, 2011
Angela Pari Do'minic Chumroo aka Pari Chumroo is an American/Mauritiun Artist who speaks english, french, creole, and hindi. Art pieces are often title with a french name or hindi. Originated from the cold state of Michigan in the USA she now resides in the tropical island of Mauritius. To read more of her biography and see her art please visit the link for more information. You can also see more of her art in her galleries at : http://angela-pari-dominic-chumroo.artistwebsites.com/