Anita Dale Livaditis
Larnaca - Cyprus



Art has to be something that makes you scratch your head.- Ed Ruscha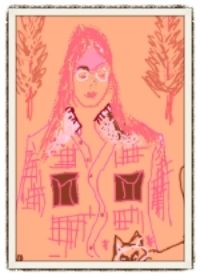 'fresh, uncomplicated, and meaningful.' Franziskus Pfleghart

Welcome to the Online Art Gallery of Anita Dale Livaditis.

Anita is a Greek-American contemporary artist born in 1962 in Atlanta Ga., who has been living abroad in Cyprus for the last eight years. She lives among olive groves in agricultural fields near the Mediterranean sea with many cats and one chow chow.

Always an animal and nature lover, she initiated a TNR program in her village where she cares for and feeds many cat colonies. She likes to paint and photograph the cats she lives with and provides for and has a dream to establish a cat sanctuary on the island. In her village she is known as 'The Lady of the Cats'.

Her art explores her intimate life, and her love of the pure and the simple, an outgrowth of her long held Orthodox Christian beliefs and her desire to see nature, animals, and all of creation integrated into the Orthodox Christian world view. She loves color and simplicity.

Anita has exhibited in many galleries and her artwork is held in many collections both in America and Europe.

Your purchase helps her to feed, alter, and give medical care to the many street cats of her village and to continue her work with the cats of Cyprus.

You are invited to browse her galleries, her drawings and paintings, digital art, and photography, join her mailing list, and to visit her Artist's Website, so you can get to know her work, and all the cats she loves and assists.

You are also invited to visit her on blog on Blogger called 'Altered Cats!' where you can read stories about the cats who inspire her. Perhaps you will even want to adopt a Cyprus cat as one FAA artist in the USA has done, or make a kind donation to help her in her work.

Altered Cats! Blogspot

Altered Cats! Cyprus on Facebook

Again, welcome.

Anita hopes her work is a blessing, and that you find it comforting and inspiring, clean and pure, thoughtful, hopeful, and affirmative.

Watermarks will not show on the final printed artwork and are for security purposes only.




Studies: Atlanta College of Art: Pastels, Oil Painting, Portraiture, Figure Painting, Color Theory, Photography
Georgia State University: Painting, Sculpture, Printmaking, Ceramics, Fabric Design, Collage, Art History, Graduate with Honors

Anita is a proud Recipient of the Cassandra Wood Walker Award.


Concepts create idols; only wonder grasps anything.- St Gregory of Nyssea



Anita and Zelda












Sold Images Gallery
A gallery of sold images.