About Christine Stonebridge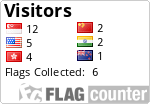 Hello! And welcome to my studio :)

I'm tickled you landed on my page! There are countless, fabulous images on here to choose from, so I'm honored that one of my images caught your eye (and very hopeful that you weren't disappointed).

I'm an amateur, self-learning, photographer. My gallery is about what catches my eye or strikes my fancy. I look forward to having more time to dedicate towards learning more about digital photography. In the meantime, I'm happily plundering along in a hobby that gives me great pleasure and the freedom to express my creative side.

My hope is that one of my images manages to catch your eye. Anything beyond that, say a comment , a vote, or - the Holy Grail - the occassional sale - sets my spirits soaring!

Thanks for visiting! I hope that you found something that brought you a moment of pleasure!

Best wishes,
Chris

PS: If you do purchase a print, I'd really, really love to hear from you. I always (and still) wonder: Where is it hanging? Was it a gift? What drew you to my image? Were you as pleased with the finished product as you'd hoped to be? Help me solve some of these mysteries! :)

PPS: Love to my dear friend Allen, who purchased the very first print from me on this site, and held out on ever telling me (his mom let the cat out of the bag)!

Christine Stonebridge http://christine-stonebridge.artistwebsites.com/

All rights to images remain the sole proprty of the artist and are protected by Copyright © 2010-12 Christine M Stonebridge, all rights reserved. Using images found online for blog postings is a common occurance. If you use one of my images to illustrate your blog, be sure to include a photo credit and link to my page (to not do so is just just rude).