Elizabeth Carr
Acworth, GA - United States
Elizabeth Carr - Fine Artist
Elizabeth J. Carr


Elizabeth Carr was born in Coco Solo, Panama, reared in a military family, traveled around most of the U.S. and Germany, then married a Naval officer and repeated the pattern for several years, before finally settling in Acworth, GA in 1985.

She has been studying watercolor painting for most of her adult life and struggling to find a balance between her mothering/homeschooling career and her love for watercolors. For more than 25 years, she has practically kept her fine arts talent on the back burner, although she never totally abandoned her call as a watercolorist. "When I could not find time to paint, I would spend what little energy I had left at the end of my day, pouring over my beloved watercolor magazines, reading them cover to cover, and painting hundreds of pictures in my mind. I literally dreamed watercolor!" Apparently, this is not such a poor method, for she has been the recipient of many awards through those years. Diversity of subject and method is her strong point, choosing to use whatever method best suits the subject matter and feeling she wishes to convey at the time. She has attained Signature Membership of both the Georgia Watercolor Society and The Watercolor Society of Alabama, and is a current member of Gallery 4463 in Acworth, GA. Although, she works primarily in watercolors, she is competent in oil painting, pastels and drawing and enjoys the added challenge of commissioned portraits. Teaching what she has learned to others is a great source of enjoyment and growth. She currently teaches adult watercolor at Kennesaw State University's Continuing Education and Gallery 4463.
Today, many of her paintings are held in private collections nationwide.

Formal Education:
Art Major, Auburn University, Auburn, AL
Art Major, Columbia Basin College, Pasco, WA


Personal Instructors:
Janet Walsh
Frank Webb
Barbara Nechis
Charles Harrington
Alex Powers
Larry Walker
John Salminen
Marilyn Hughey Phillis


Recent Awards
Winsor & Newton Award, American Watercolor Society International Exhibit, 2011
Finalist 2010 Artist's Magazine National Competition
Combined Award, 2005 Watercolor Society of
Alabama National Exhibition, Auburn, AL
People's Choice Award, 2005 Art of the Golden Generation, KSU
Third Place, 2005 The World of Art, South Cobb Arts Alliance, Mableton, GA
First and Third Place in Watercolor, 2005 Spring Art Exhibit, North Cobb Arts League, Kennesaw, GA
Third Place, 2004 Cherokee County Open Juried Art Competition
Best of Show, 2004 North Fulton Regional Juried Art Exhibition
Honorable Mention, GWS Membership Show 2003
First Place and Honorable Mention, Watercolor, Fall 2003, Fine Arts Society of Kennesaw
First Place, South Cobb Arts Alliance "Art from the Heart" 2003
Best of Show and First Place, Watercolor, Spring 2003 Fine Arts Society of Kennesaw
Best of Show, 'Marvelous Light', Sept., 2008
Shows:
"For the Beauty of the Earth", Bowen Cultural Arts Center, Dawsonville, GA May – June, 2007
2003-07 Georgia Watercolor Society's National and Member Juried Exhibitions
2005 &2006 Metro Montage, Cobb/Marietta Museum of Art
Watercolor Society of Alabama, 2004 &2005,2007 National Juried Exhibitions
The Art Station at Big Shanty, Paintings by Elizabeth Carr and Peter Gebhardt (Fall, 2004)
A National View at Grandview 2004, Atlanta Artists Center
North Fulton Regional 2003 Juried Art Exhibition
Atlanta Artists Center 31st Annual Members Traveling Show 2003
Atlanta Artists Center Winners' Circle Show 2003
Georgia Watercolor Society National Exhibition 2000
Acworth, GA - December 10th, 2012
As my gift to you, I'm offering a 10% discount on any print orders from my Fine Art America website. Just enter the discount code ERSEGT when checking out and you'll receive your discount. Merry Christmas and happy shopping!
Elizabeth Carr To Demonstrate Watercolor Techniques
Acworth, GA - November 4th, 2012
Elizabeth Carr will share some of her creative watercolor techniques at a demonstration for The Georgia Watercolor Society's quarterly meeting at Binders Art Supply in Buckhead, Atlanta, GA on November 17th, 1:00 - 3:00. Come join the fun!
Georgia Watercolors On View At Johns Creek Arts Center
Acworth, GA - February 12th, 2012
Fifty paintings by fifty sgnature members of The Georgia Watercolor Society will be on display at The Johns Creek Arts Center, 6290 Abbotts Bridge Rd., Suite 700, Johns Creek, GA, through February 17, 2012.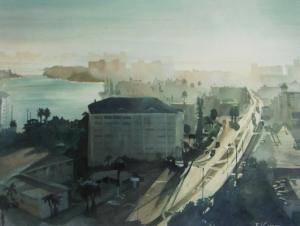 See Cold Dawn Up Close And Personal
Acworth, GA - January 11th, 2012
Cold Dawn can be seen in the American Watercolor Society's 144th Traveling Exhibition at The Fallbrook Art Center in Fallbrook, CA, February 4 through March 18 and at The Freeport Art Center, Freeport, IL March 30 through May 20, before returning to New York.
Acworth, GA - March 7th, 2011
Elizabeth Carr's watercolor painting, "Cold Dawn on Gulf Boulevard" has recently been honored with a major award at The 144th American Watercolor Society International Exhibition at The Salmagundi Club in New York City. The show opens April 5 and runs through May 1. From there, her painting is one of 40 chosen from the show, to travel to several venues throughout the U.S. The American Watercolor Society welcomes more than 3,000 visitors to its Annual Exhibition each year and is noted for its outstanding quality and professionalism.
Elizabeth Carr, Finalist In Artists Magazine Competition
Acworth, GA - July 12th, 2010
Elizabeth Carr is pleased to announce her painting, Cold Dawn on Gulf Boulevard, has been chosen as a finalist in the landscape/interior category of The Artists Magazine 27th Annual Competition. The winners of this competition will be featured in the Artist's Magazine's December 2010 issue.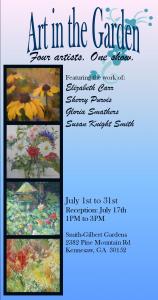 Elizabeth Carr At Art In The Garden
Acworth, GA - July 12th, 2010
The Smith-Gilbert Gardens of Kennesaw, Georgia presents the artwork of Elizabeth Carr, Susan Knight Smith, Sherry Purvis, and Gloria Smathers in the historic Hiram Butler house on the grounds. An opening reception is scheduled for Saturday, July 17th, from 1:00 - 3:00. Come view the wonderful range of gardens and the watercolors, acrylics and pastels of these four talented artists and immerse yourself in nature and the good company of other artists and art lovers alike. The Gardens are located at 2382 Pine Mountain Road, Kennesaw, GA.