About Ellen Heaverlo
When growing up my dad was my greatest inspiration in developing a love for photography. He loved the close up shots of flowers, beetles and just the little things that people overlook so often. I enjoy landscape and macro photography the most and wish I had more time to devote to the hunt for the perfect shot. So many places - so little time.

I was born in Germany and moved to the US in 1988. I have lived in Idaho and now reside in Colorado. In 2007 I became a US citizen. I love the wide open spaces of the western United States.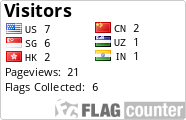 Free counters








Google+