Gail Butler
Chesterfield, VA - United States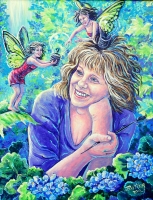 Self-taught, Gail's artistic interests and abilities have been part of who she is her entire life. Starting with crayons and a Poloroid camera, she has evolved into an artist with a unique style all her own. Having an 'Enjoy the moment, for it will all to soon be gone!' outlook comes through in her work. Her love of the natural world and its inhabitants fuels a desire to capture their beauty, while her sense of humor and appreciation of that which is magical and whimsical is also a driving force behind her art. Her portraits are renditions which capture the character of her chosen subjects, as she 'casts' them in roles which give a glimpse into their 'personality'. Her 'Wordplay' series showcases her love of a good pun, and her animal renditions are executed with great care and an obvious love of the natural world.
' My art is my passion! Creating works which bring joy to others feeds my soul. Enjoy life, look for the good, try to find a giggle in every day, and most of all do your best to give joy to all you come in contact with, are the words I try to live by. If my work brings a smile or a moment of peace to the heart of it's viewer, then I have done my job.'
Gail has been a professional photographer and prolific artist for seventeen years. She is an active member of the local art community, and exhibits on a regular basis at several venues in the Richmond/Chesterfield area.
Artist Gail Butler Wins Special Recognition
Chesterfield, VA - October 16th, 2013
I am happy to announce that 'Spotted has won Special Recognition in the Animals Art Competition hosted by Light Space & Time Online Art Gallery, Painting and other category. I am honored to be part of the competition, and invite you to take a moment to view this beautiful collection!
Artist Gail Butler Recieves Special Recognition
Chesterfield, VA - August 1st, 2013
Today marks the opening of the Upstream People Gallery's '13th Annual Summer All Media Juried Online International Art Exhibition'. I am delighted to say my works 'Spotted' and 'Summer' have been included in this wonderful show, and have recieved 'Special Recognition' by the juror Lawrence Bradshaw, Curator, and Proffessor Of Art. The show is a pleasure to view, with many marvelous creations included. Please take some time and visit!