Mark M Mellon
Las Vegas, nv - United States
Mark M Mellon - Fine Artist
join the mailing list

~ Within expression you see the truth inside the soul of Man Kind. ~
In the Artwork of Mark M Mellon, the artist sets forth to dictate the expressions of man, from simplistic features of joy to detailed grimaces of fear and pain. To explore the condition of man and our placement in the world we find ourselves in is his main drive in the work he produces. Igniting conversation amongst the viewers, who always seem to find their own story or sense of self within the scattered brush marks or the hard contacts of color.
Mellon is a self made artist. Opting to not attend the School of Visual Arts in New York, he went on his own journey, traveling europe and seeking his own identity and truths in life. For the past 16 years he continued his study of art history along with psychology, mythology and religions on his own and amongst the fellow artisans and people he would happen to come across in his journey.
Mellon's Art work is collected world wide and will have his first International Show in Beirut, Lebanon in February of 2014.


please visit http://www.mellonfineart.com to inquire about purchasing original work.
or email me directly at markmmellon@gmail.com

I ship free on most items within the U.S. via the USPS, Priority and First Class.
International orders Ship USPS First Class International.
Henderson, nv - September 17th, 2009
hello all. if your in the vegas area, i will be panting live next saturday, september 26 2009 at the beauty bar in las vegas.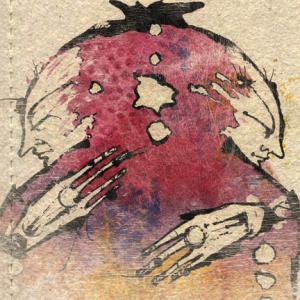 Exhibition Tonight- Las Vegas Nevada
Henderson, nv - September 4th, 2009
tonight will be the first exhibition of my new watercolor series, "idle. exlposion". on display at the funk house, located in downtown las vegas. http://maps.google.com/maps?client=safari&oe=UTF-8&ie=UTF8&q=the+funk+house+las+vegas&fb=1&split=1&gl=us&cid=0,0,15571990960451106617&ei=ikqhSqWAPYHSNZ_r3eIP&z=16&iwloc=A
Henderson, nv - August 24th, 2009
a new commission piece ive finished now available as canvas or photo paper prints....
Henderson, nv - July 10th, 2009
lots of new pieces have been added to the site and are available for purchase as prints or original. i have been working on artist edition cards, kinda like baseball trading cards but for artists... the first series titled, "the conquest of familiar ground" is an edition of ten. these are going to be a limited edition of originals only. they will not be reproduced. the first four have been posted to the site and the remaining six should be finished this week. some new pages added to the substance, including past work and commissions i have done. also new is the communication page enabling users to leave feedback, critique work or whatever. so that should be interesting to see what comes of it. thanks for all the support and i hope you enjoy the new work and new features to my site. .m.
New Artwork And Prints Available
Henderson, nv - July 9th, 2009
new watercolor and ink works posted and available for sale on my site. also check out my consumption page (http://www.mellonfineart.com/consume.html) for prints available for as low as ten dollars. my hand bound book of prints "idle explosion " is still available, only two in existance. also keep checking the site for updates on my art card editions i am working on. they will soon be finished. m
The Soloist Movie Live Painting Event
Henderson, nv - April 25th, 2009
News coverage for the live painting event for the promotion of the film, "the soloist" http://www.fox5vegas.com/video/19242742/index.html