Michael Durst
Cape Town - South Africa
About the Artist:

Dr. Michael Durst is one of the most exciting South African artists. As a psychologist, Dr. Durst's paintings create not only beauty for the beholder, but also a state of relaxation and healing. His work combines realism with impressionism, evoking an emotional link to the heart—thus the name: "Heartscapes."

His exhibitions in Cape Town, the Netherlands and New York have received rave reviews and gained Dr. Durst international renown.

Dr. Durst loves to paint the beauty of Cape Town--especially the Waterfront, Table Mountain, ocean views, spring flowers, and the vineyards. His abstracts have won top awards from Fine Art America as well.

To see all of Dr. Durst's paintings visit his web site: www.HeartscapePaintings.com

Reviews:
ART FOR THE HEART by Hilary Benjamin, The Atlantic Sun, September, 2007

Exhibitions:
2004-2006 Sun International Gallery, Cape Town
2008 The Blue Dolphin Gallery in the Netherlands
2009 'Perspectives of Reality' Ico Gallery, New York
'The Rhythmic Figure' Ico Gallery, New York

Solo Exhibitions:
2007 "Heartscapes of the Cape" Eclectic Gallery, Cape Town
2008 "Postcards from the Heart of Cape Town," Table Bay Hotel, Cape Town
2009 'Magical Moments in Sea Point' Eclectic Gallery, Cape Town

Book:
2010 "Cape Town Heartscapes" the works of Dr. Michael Durst, Available on www.lulu.com
"Cape Town Calendar" Dr. Durst's scenes of Cape Town, Available on www.lulu.com

Private Collections:
In South Africa, England, Scotland, France, Germany, Canada, Australia, Chile, Turkey and the United States.

BEST OF SHOW ART EXHIBITION BY DR MICHAEL DURST
Cape Town, - December 5th, 2012
FIRST PLACE WINNING ARTWORK ON DISPLAY AT WINCHESTER MANSIONS IN DECEMBER "Best of Show" is the title for a solo exhibition of Dr. Michael's Durst's artwork which opens on the 5th of December at the "Grape, Gourmet and Gallery" evening at the Winchester Mansions Hotel in Sea Point, Cape Town, South Africa. All of the works on display have won or been tied for First Place awards on Fine Art America, the largest online site for artists and photographers from all over the world. Over 130,000 artists have uploaded more than three and a half million images onto this site. Fine Art America sponsors contests, which asks for submissions from international artists, and then members of the public vote for their favourites. Dr. Durst has won "First Place" for dozens of his paintings and Fractal Visions. His impressionistic works have an emotional appeal and display the beauty of South Afr...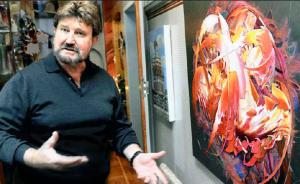 Cape Town, - November 6th, 2011
Cape Argus, The Good Weekend: November 5, 2011 IMAGINE using mathematical algorithms to create patterns for art. Known as fractal art, Cape Town artist Dr Michael Durst has been winning international awards for his work in this genre. An exhibition of his work, "The Wonders of Fractal Art", is on display at the Winchester Mansions Hotel in Sea Point. The Good Weekend visited the home of the retired psychologist to view this computer-generated work and to chat about its uniqueness. Durst says it takes from two to three days to create the patterns and then more time to add colour and light. "A year-and-a-half ago I saw it on a website. Having a 'can do' attitude, I decided to try it," he said. He won first place for the work "Thought" in Fine Art America's art competition. The work shows a detailed orb made up of numerous absorbing lines and patterns. A psych...
Cape Town, - November 6th, 2011
"THE WONDERS OF FRACTAL ART" An Exciting Art Exhibit at the Winchester Mansions in Sea Point, Cape Town Fractal Artist, Dr. Michael Durst, explores the interplay of form, energy and light at a solo exhibition at the Winchester Mansions in Sea Point, Cape Town. Durst uses texture, pattern and colour to reveal the infinite visual depth and immense detail, inviting the viewer to plunge into an imaginary world of striking beauty. You can view his Fractal Paintings at the Winchester Mansions Hotel from November 2 to December 3, 2011. You can view all Dr. Durst's fractal art work, as well as his beautiful impressionistic paintings of Cape Town, on his web site: www.HeartscapePaintings.com