About Remegio Onia



ART PRINT SALE HAS BEEN ONGOING AT THIS SITE. BIG DISCOUNT OF 20% AT CHECKOUT ON ALL ARTWORK PRINTS OF ANY SIZE, USE CODE LXUHLT. Thank you very much.

Art prints, metal prints, posters, greeting cards, canvas prints, framed prints or prints on acrylic sheets are guaranteed of highest quality and ship within 3 business days of you order. Fine Art America fulfillment centers will ship your order at the right specifications of your choice.

Interested in buying any of my ORIGINAL PAINTINGS, I can be reached at email addresses: ONIAMINGB@COMCAST.NET OR AT ONIAMINGB@GMAIL.COM

A self-taught painter, I was born at a humble and bucolic outskirts of Mabini, Pangasinan, Philippines. Mabini-- a scenic place with captivating landscapes of rolling hills, and glowing golden fields in summer-- is a perfect place for people who simply love nature and beautiful landscapes. Graduated in 1989 and obtained Civil Engineer license in 1990, my passion indicated otherwise --painting landscapes in oil.

Scenery and landscapes are my favorites. Nature is just so rich of wonderful creations that soothe the weary eyes. The view of an ultramarine or cerulean blue skies and lush viridian or sap green vegetation and vibrant forest trees are just hard to pass up: these are what make us feel relaxed and relieved from everyday hustle and bustle of a busy life. A landscape painting, be it on the walls of living room or on the walls of your private room/ bedroom, taking a glimpse at these is a source of serenity and regaining physical energy lost during the day. This is the very reason why my paintings center on landscapes. The theme mostly depicts landscapes of different scenes, moods, and on different seasons. The sense of being there, viewing and imagining being there inside the cabin or in the old house in the paintings, is believed to be most efficacious in creating a feeling of excitement in the viewer himself.

Thanks folks for stopping by and viewing my artworks. Feel free to contact me at email addresses above for any questions about artworks or interest in buying any of my original piece of art.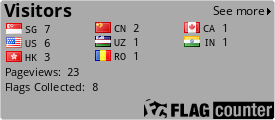 Free counters