About Scott Hansen
Beaufort Photographer - Scott C. Hansen is a long time resident of Beaufort, SC, who loves capturing the beauty of the LowCountry.

His photography career started as a Combat Photographer for the United States Marine Corps. His passion for photography remains today. Often times you may see Scott out and about photographing various areas of Beaufort and the surrounding LowCountry.

Scott sees himself more as an artistic photographer. His passion is capturing local scenes, that we pass by every day, and presenting them in a way that is unique and inspiring.

Scott gives credit to his Heavenly Father, and Lord and Savior, for all of his photographic abilities.

Some of his publications include, the Smithsonian Channel and Website, and Lowcountry Living Magazine.

Scott was most recently featured on the Smithsonian Magazine Website
for his photo of the Old Sheldon Church.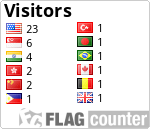 check out my work in the following galleries: