About Wedigo Ferchland
Call me the old photographer. We live in West Jutland /Denmark, not far from the heat and the sea, and we had a good time in many years.
As a photographer I went out and came away with my camera most northward to Scandinavia, the Faroe Islands or Greenland. In the newer (digital) time becomes the most to the motives of Jutland - landscapes and nature. My active life is over, now I only take photographs because I can not help it.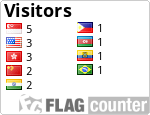 Free counters