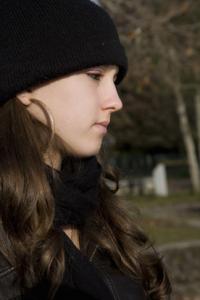 Picture
Why must there be so much suffering, failures and disappointments? There is emotional dysfunction in our society today and it seems that no one has the capacity for feelings anymore. True tender loving feelings should come from the heart. We all seem to have experienced this at one point or another, but it seems that once that is gone, instead of truly feeling, people yearn for that feeling. People just don't appreciate anything or anyone around them anymore.

They are always out for themselves and some people can't even be bothered to help someone stranded on the side of the road. Maybe that person doesn't have a cell phone or maybe the car is on the inside of the freeway and there is no way for them to cross to use the call box. Do you ever wonder why there are no call boxes in the middle of the freeway? Probably because they expect you to try and get to the right shoulder even though you might have had a blowout. Is it safer? Yes and no. No one wants to be in the middle of the freeway, but at the same time, if you had a blowout and you have children in the car, you stop where it is safe.

There are a lot of things that I would so love to share with everyone on a very deep level. But are people deep anymore? I think that most of the world has shallow thoughts. The easy way out seems to be the way to do things. People no longer know the value of working, loving and being part of the grander picture. Most would probably just look at me and say that I am crazy and weird.

Do I want to tell the world these things? Yes I do. Do I want to be judged because of my own thoughts? No I don't, but would probably get judged not because people donít understand but because people don't want to face the truth of what this world has really become.

People no longer ban together to fight for the healthy life they deserve. People should understand what they are doing. There is so much hate and competing going on and not enough living going on. I feel pissed off, pissed on, emotionally broken, sad and stupid all in the same breathe. No one understands and thatís probably the way a lot of people feel in this world.

I could list a ton of things, but would you really understand? Would you really be able to be there for someone to listen and understand? Does anyone have the emotional capabilities to understand what life is really about or how someone can feel everything that goes on? I don't know if that is possible. I don't know anyone who feels like I do and I don't know anyone who could explain things like I do. To make someone feel is an incredible achievement and not one to be taken lightly.