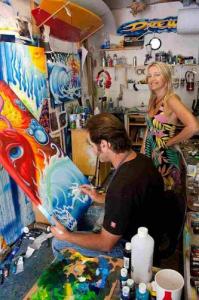 Artsy Shark interviews art licensing expert and author Maria Brophy on how artists can protect themselves when negotiating art licensing contracts.


AS: What has changed in the licensing world in the past few years?

MB: Wow, so much has changed in just a few years! When the economy crashed in 2008, licensing took a big hit. Many retailers went out of business, and the effect trickled down to the licensors and artists.

My husband and I felt the pinch of that directly. It was early 2008 when we had developed a line of Drew Brophy boys clothing for the 175 store chain called Mervyns. We were very excited and expected nice, fat royalty checks! But then, in December of 2008, Mervyns went out of business and closed all of their stores.

These days, buyers are very careful about what they will place in their stores. It used to be that retailers would see something they liked, and even if it was a new artist or a new brand, they would give it a try.

Now, they play it safe and stick with what's proven. This doesn't leave much room for innovation or creativity, when the buyers are afraid to try something new!

AS: How are artists losing out on licensing contracts?

MB: There can be many red flags in contracts that artists miss.
Read the Complete Article