Contest - Beautiful Scenery With Ice
Beautiful Scenery With Ice Overview
This contest is over. Click here to view the winners!
Contest Rules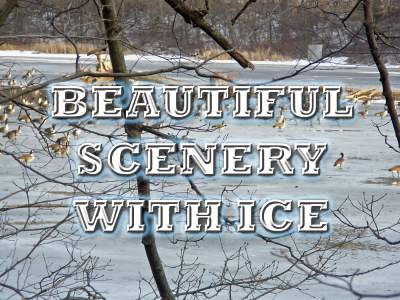 This contest is for images of winter and ice must be a large part of the picture. Scenery, in this case, is for a view that encompasses a relatively large area and is not focused on just one thing (flower, animal, statue, etc.). You know what scenery is - here is a good definition. 'A view or views of natural features, especially in open country'. The operative word here is 'open'.
YES - ALL MEDIA ARE WELCOMED
YES - ONE (1) IMAGE PER ARTIST
YES - ICE IS A MAJOR PART OF THE IMAGE
NO - MACRO
NO - SINGLE SUBJECT
NO - NUDITY, PROFANITY
As this is a contest with public voting, some solicitation is deemed okay. This is the asking of friends and family to partake. You know what is good and what is not.
First, Second, and Third place winners will be showcased on our group home page for two (2) weeks. In the case of a tie, all winners will be honored.
Please do come by our Beautiful Scenery Group and enjoy the awesome art by our members. Join, if you like. Paste this address in your browser or click on the Beautiful Scenery icon.
http://fineartamerica.com/groups/beautiful-scenery--a-picturesque-view-or-landscape-.html
Thank you for joining the fun and don't forget to vote when the time comes!
HAVE FUN - GOOD LUCK
Each participant may submit 1 image.
1) Votes may be cast by any visitor to FineArtAmerica.com (members and non-members).
2) You may only vote once per image.
3) You may vote for as many images as you like... but only once for any given image.
Status: This contest is over.
Submissions Begin:
Tuesday, September 4th, 2012 - 8:52 PM
Submissions End / Voting Begins:
Tuesday, September 11th, 2012 - 8:52 PM
Voting Ends / Prizes Awarded:
Tuesday, September 18th, 2012 - 8:52 PM
Current Time (Eastern United States):
Sunday, July 23rd, 2017 - 12:55 PM
Contest Prizes
This contest will be awarding the following prizes:
1st Place:
2 Weeks on Beautiful Scenery Homepage
2nd Place:
2 Weeks on Beautiful Scenery Homepage
3rd Place:
2 Weeks on Beautiful Scenery Homepage
Contest Administrator
Sponsoring Group
Join Contest
Click here to submit your artwork to this contest.
Invite Others to Join
Contest Overview