Contest - Show Those Swan Wings Contest
Show Those Swan Wings Contest Overview
This contest is over. Click here to view the winners!
Contest Rules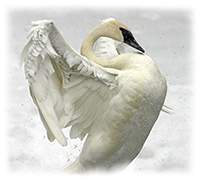 Welcome to the 'Show Those Swan Wings Contest'. This is a great venue to showcase your swan images!!!
HERE ARE THE RULES!!!
* Submit swans with raised wings only. They can be sitting, standing or flying as long as their wings are extended in some form or fashion. They don't have to be fully extended to enter.
*Submit your best images!!! 4 per member!!!
- Photographs, painting, drawings allowed
- No nudity, animal cruelty, or people dressed as swans.
- Follow the rules, have fun submitting your best images, don't make this overly complicated and don't waste my time with ineligible images.
Thank you Ron Pitts (Toronto, ON - Canada) for the use of 'Archangel' as the Contest Logo!!!
I reserve the right to DELETE any images that are inappropriate or which fail to meet the submission guidelines. Good Luck to all participants!!!
Each participant may submit 4 images.
1) You must be a member of FineArtAmerica.com in order to cast votes in this contest. Your account must have been active at least 30 days prior to the start of the contest in order to vote.
2) You may only vote once per image.
3) You may vote for a total of 5 different images... but again, only once for any given image.
Status: This contest is over.
Submissions Begin:
Monday, June 30th, 2014 - 7:13 PM
Submissions End / Voting Begins:
Sunday, July 6th, 2014 - 7:13 PM
Voting Ends / Prizes Awarded:
Thursday, July 10th, 2014 - 7:13 PM
Current Time (Eastern United States):
Saturday, July 22nd, 2017 - 2:20 PM
Contest Prizes
This contest will be awarding the following prizes:
1st Place:
Super Bragging Rights
2nd Place:
Bragging and Proud
Contest Administrator
Sponsoring Group
Join Contest
Click here to submit your artwork to this contest.
Invite Others to Join
Contest Overview