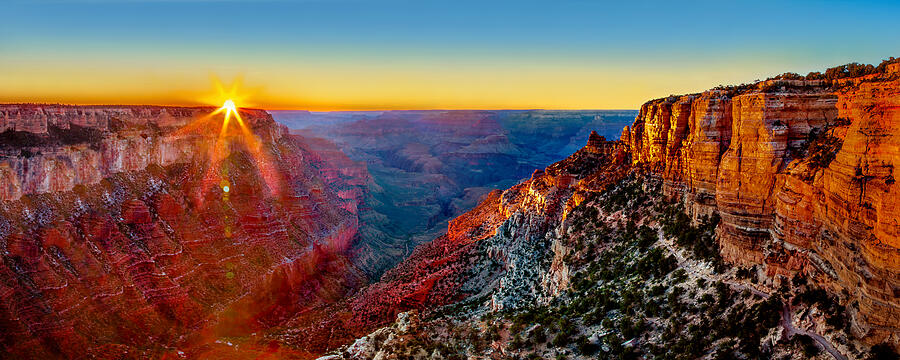 Grand Canyon Sunset is a photograph by Az Jackson which was uploaded on August 16th, 2014.
Grand Canyon Sunset
A perfect sunset kissing the horizon as it falls over the Grand Canyon, NV during the spring

-- Artist Notes --

I'm particularly fond... more
Title
Grand Canyon Sunset
Description
A perfect sunset kissing the horizon as it falls over the Grand Canyon, NV during the spring

-- Artist Notes --

I'm particularly fond of this one... for several reasons.

I just love the vastness of the Grand Canyon for starters and have always been fascinated by it. You can't see it here, but I'm standing on a ledge with a sheer drop that is a mile straight down on all sides, with just enough room for someone to walk right to the edge of the world. It was invigorating to be standing there to say the least, in fact one of my greatest moments in life witnessing this amazing view of the world from this spot.

Greatness never comes easy and in my haste to capture this perfect sunset shot, I had jumped down about 3 stories to get to this spot. Soon after I set up my tripod, as I was taking the shot, a huge gust of wind came up from below and nearly blew me off the ledge. I steadied myself, continued and remained for the next 20 minutes until I was certain I got the technical aspects of the shot but the wind didn't ease up and by the end of the shoot I was chilled to the bone even though I had 2 jackets, a scarf and gloves on.

After the sun had gone down, with my limbs almost numb, I went to climb back up and realized that I because I had jumped down most of the way, I didn't have a way to get back up the sheer and brittle rocks. Shivering, I looked around to see if I could see someone... anyone... but nothing.

The light of the sun didn't last long and it was now pitch black dark with no moon in the sky and it got to the point where I thought I would be spending the night here, knowing that I probably wouldn't last too long as it was so bitterly, freezing cold. Now, I'm usually quite the optimist but this one really challenged me and, dare I say it, for a brief moment I thought this might be the end.

Once I snapped out of my victim mentality I tried to consciously stop myself from shivering by thinking of turning the cold breeze into a hot shower whilst clenching every muscle on and off and by closing my eyes and motivating myself, saying things like... "C'mon think!", "you can do this!", "this is not how it's meant to go down", "who's going to publish these images?" haha, seriously...and with that I started to think. I came up with a way to rig up my tripod and with the help of several rocks in the area, built steps and a ladder to climb over.

...I MADE IT! I got to the top and in a real "Rocky" moment, I thrust my hands in the air in elation shouting "I SURVIVED, I SURVIVED!" I took one final look at this magnificent view and quickly raced back to the car and turned the heaters on full blast.
Uploaded
August 16th, 2014
Statistics
Viewed 7,278 Times - Last Visitor from Mount Laurel, NJ on 09/19/2021 at 10:14 AM