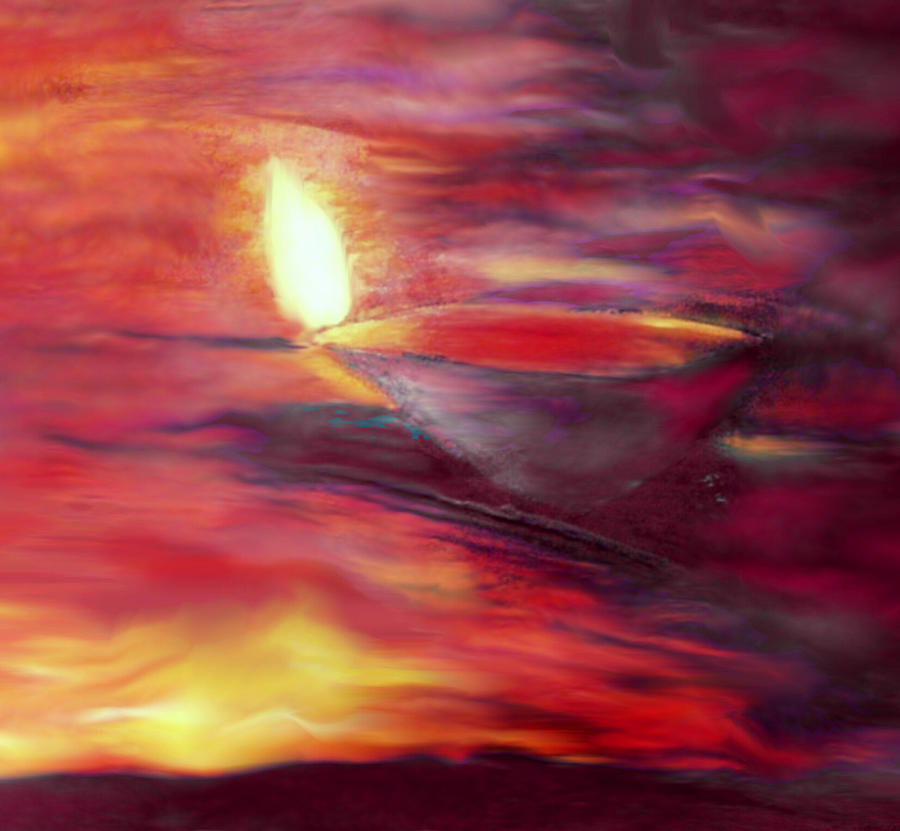 Greeting Card- 5 is a painting by Karunita Kapoor which was uploaded on October 17th, 2014.
Greeting Card- 5
Greeting Card-5 ( The spiritual Flame) by Karunita Kapoor.... more
Medium
Painting - Acrylic On Canvas
Description
Greeting Card-5 ( The spiritual Flame) by Karunita Kapoor.

Greeting card. Blank inside so you can add your own message. Please follow directions to customize your inside message.

Diwali or Deepawali ( 23rd Oct 2014), the Indian festival of "lights", is an official public holiday in many parts of India. It symbolises the victory of spiritual goodness and lifting of spiritual darkness.On this auspicious day, firecrackers are set off to drive away evil, oil lamps are lit, flower garlands are made, candles float in bowl of water outside homes and sweets are shared as part of the festivity. If you take an aerial view of India on this particular day, it'll surely give you the feel of A STARRY NIGHT!!! TRY IT !-)

MY ARTWORK SYMBOLISES THE SPIRITUAL SPIRIT OF THIS AUSPICIOUS FESTIVAL OF INDIA- DIWALI!

MAY THE ILLUMINATED LAMPS OF DIWALI MAKE YOUR LIFE BRIGHTER ALL THROUGH! CHEERS!

ONLINE BUYERS are welcome. Hope you find just the right thing for your home, office, I phone covers, restaurant, hotels, school, business decor,
gift needs in my galleries. Greeting cards are also available with your custom messages printed inside and a 30 day no questions asked guarantee.
Images are available in different sizes and formats. Fineartamerica handles each order. They take care of framing, matting, packaging, collecting payments from buyers and sending profits to us artists/sellers. Your Prints would be beautiful, long lasting ...reasonably priced too!
I would appreciate your feedback, social media support, visits and comments.
Please feel free for any query.
My email- karunita.kapoor@gmail.com

My website- 4-karunita-kapoor.artist websites.com

Featured in different FAA groups-

Beauty
10/17/2014

Abstract Moods
10/17/2014

Created By My Hand
10/17/2014

The Galleria of Interior Design and Art
10/17/2014

The World we See
10/17/2014

Impressionists of the 21st Century
10/17/2014

Appreciating Works from all Mediums
10/17/2014

Out of Ordinary
10/17/2014

Artists Best Five Artworks
10/17/2014

WHAT- Question Mark
10/18/2014

Images that Excite You
10/18/2014

Interior Design
10/20/2014

In The Mood
10/20/2014

Abstract and Surreal Art
10/22/2014

Pin me- 1 Daily
10/26/2014


THANKS FOR YOUR TIME! my website link http://4-karunita-kapoor.artistwebsites.com/. Please feel free to e-mail me at karunita.kapoor@gmail.com for purchasing any of my artwork.

Uploaded
October 17th, 2014
Statistics
Viewed 1,264 Times - Last Visitor from Wilmington, DE on 12/04/2021 at 1:18 PM