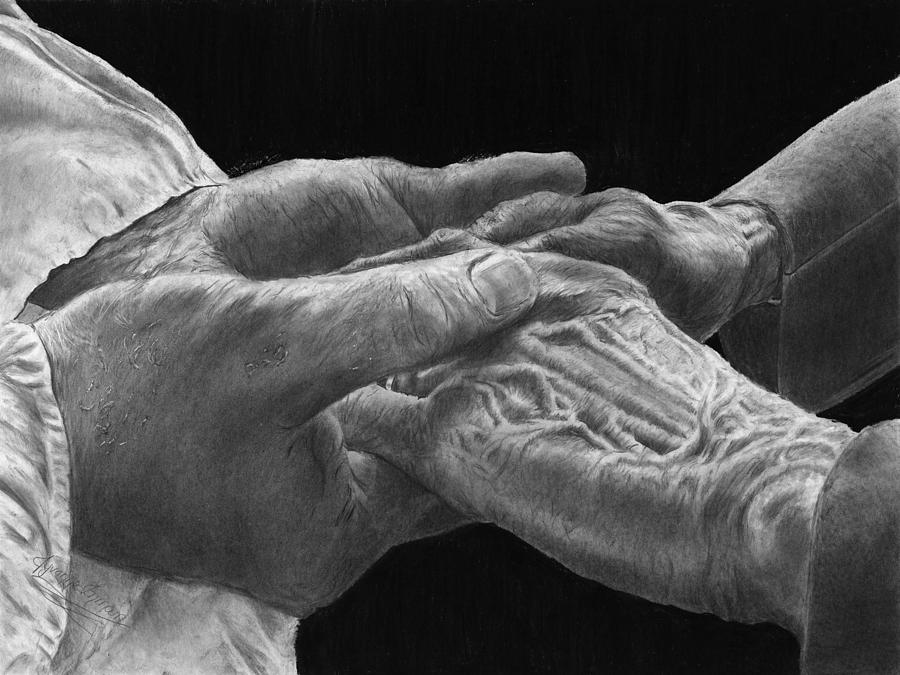 Hands of Love is a drawing by Jyvonne Inman which was uploaded on February 2nd, 2012.
Hands of Love
Some time ago, I was working on a dementia floor helping out some of the other nurses. ... more
Medium
Drawing - Graphite, Carbon And Charcoal On Paper
Description
Some time ago, I was working on a dementia floor helping out some of the other nurses.
There was one particular lady who was very confused. She continually wandered around and was restless, yet she was too unsteady to walk on her own.

I came down to the unit specifically to help this lady while the rest of the staff cared for the other residents. I held this dear soul's hands in mine as I walked backwards and faced her as she shuffled along.

I had taken care of her before, but never heard her speak a word, and really doubt that she could even see very well, if at all.

She never gave any response when I spoke to her and the only thing that indicated that she ever knew someone was with her was that occasionally in the past if she happened to reach out and touch my hand, she would grasp it and bring it to her lips and give it a tender kiss. It seemed that the only thing that mattered any more to this frail dear was human contact and love.

So that evening, as I had her hands in mine, I pondered her life. Who was she in years past? Who did she love? Who were the ones who had loved her?

Suddenly, I was overwhelmed with a feeling that this woman was very, very precious to God. Although her life here on earth seemed to be only a confused wandering anymore, in God's eyes she was absolutely precious. His treasure.

I remember gazing at my patient's gnarled frail hands with a sense of awe much like I have experienced when I first saw my own children's tiny fingers when they were born. I found myself filled with a feeling of honor to be able to take care of this woman in the closing days of her very long life.

Little did I know that she would die unexpectedly a few days later. Indeed, I was one of her last caregivers.

Since that day, I have truly appreciated the tender moments of frailty I have witnessed with the elderly. Whether I am removing their stockings, helping them brush their teeth, or transporting them through the hall in a wheelchair, I am honored to have the opportunity to take care of people who are so precious to God Himself.

It's with the love that I sensed that evening as I held this dear lady's hands that I drew this picture.
The man's hands represent Jesus' own, tenderly caring for the lives and hearts of the frail and needy. For anyone who, indeed, cannot even care for themselves.

I hope this is a blessing to you.

Uploaded
February 2nd, 2012
Statistics
Viewed 5,087 Times - Last Visitor from New York, NY on 03/03/2021 at 3:33 PM