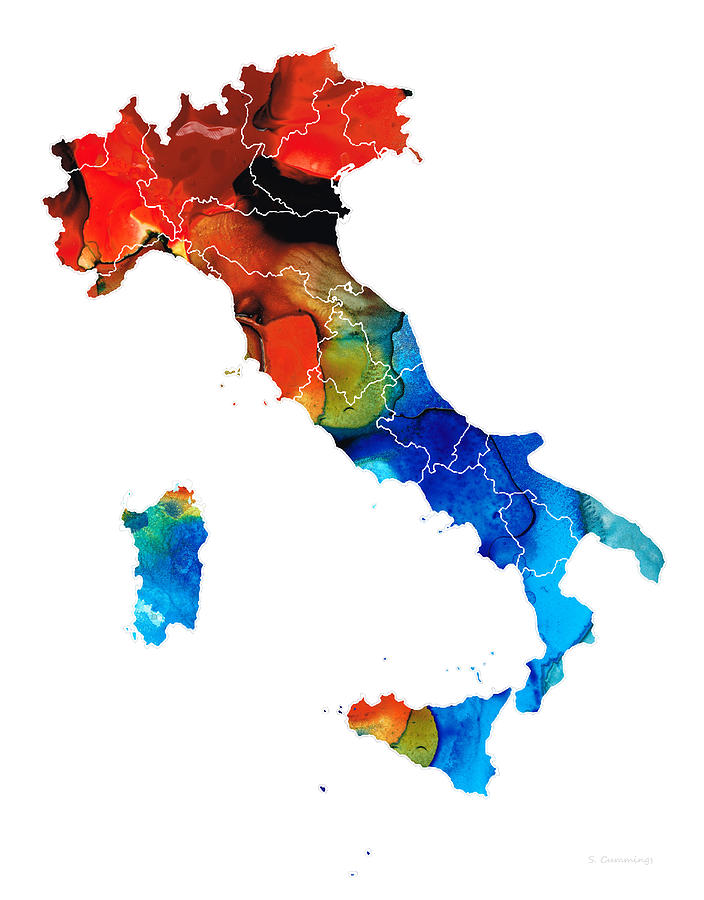 Italy - Italian Map by Sharon Cummings is a painting by Sharon Cummings which was uploaded on March 18th, 2014.
Italy - Italian Map by Sharon Cummings
Italy - Italian Map by Sharon Cummings

Italy Listeni/ˈɪtəli/ (Italian: Italia [iˈtaːlja]), officially the Italian Republic (Italian:... more
Title
Italy - Italian Map by Sharon Cummings
Medium
Painting - Mixed Media
Description
Italy - Italian Map by Sharon Cummings

Italy Listeni/ˈɪtəli/ (Italian: Italia [iˈtaːlja]), officially the Italian Republic (Italian: Repubblica italiana),[7][8][9][10] is a unitary parliamentary republic in Southern Europe. To the north, Italy borders France, Switzerland, Austria, and Slovenia, and is approximately delimited by the Alpine watershed, enclosing the Po Valley and the Venetian Plain. To the south, it consists of the entirety of the Italian Peninsula and the two biggest Mediterranean islands of Sicily and Sardinia.
Italian territory also includes the islands of Pantelleria, 60 km (37 mi) east of the Tunisian coast and 100 km (62 mi) southwest of Sicily, and Lampedusa, at about 113 km (70 mi) from Tunisia and at 176 km (109 mi) from Sicily, in addition to many other smaller islands. The sovereign states of San Marino and the Vatican City are enclaves within Italy, while Campione d'Italia is an Italian exclave in Switzerland. Italy covers an area of 301,338 km2 (116,347 sq mi) and has a largely temperate climate. With 60 million inhabitants, it is the 5th most populous country in Europe. Italy is also the 4th-largest economy in the European Union, 3rd in the Eurozone and 9th in the world (IMF, 2012).
Italy's capital and largest city, Rome, has for centuries been the leading political and religious centre of Western civilisation, serving as the capital of both the Roman Empire and Christianity. During the Dark Ages, Italy endured cultural and social decline in the face of repeated invasions by Germanic tribes, with Roman heritage being preserved largely by Christian monks. Beginning around the 11th century, various Italian cities, communes and maritime republics rose to great prosperity through shipping, commerce and banking (indeed, modern capitalism has its roots in Medieval Italy);[11] concurrently, Italian culture flourished, especially during the Renaissance, which produced many notable scholars, artists, and polymaths such as Leonardo da Vinci, Galileo, Michelangelo and Machiavelli. Meanwhile, Italian explorers such as Polo, Columbus, Vespucci, and Verrazzano discovered new routes to the Far East and the New World, helping to usher in the European Age of Discovery. Nevertheless, Italy would remain fragmented into numerous warring states for the rest of the Middle Ages, subsequently falling prey to larger European powers such as France, Spain, and later Austria. Italy would thus enter a long period of decline that lasted until the beginning of the 18th century.

Buy Abstract Prints by Sharon Cummings, Fine Artist. From Original Paintings and Designs. Buy Art Online. Colorful Abstract Wall Art. Abstract Landscapes, Flowers and more...

FULL PORTFOLIO:
My Portfolio

The FAA-Watermark will NOT appear on any final product!

If you like my Art Gallery, please push the Pinterest, FB, Google+, Twitter or SU Buttons! Thank you!

All artwork in this gallery is the original artwork of Sharon Cummings. All Rights Reserved. It is for sale, copyrighted to Sharon Cummings and, as such, is protected by US and International Copyright laws.

Thank you for your interest in my artwork. I have been selling online for years and I absolutely love it! It has allowed me to sell my original paintings and prints to thousands of collectors worldwide. I have a Masters degree in Fine Art from The University of Tampa, but consider myself self-taught. True talent is revealed not through schooling but through painting.
Uploaded
March 18th, 2014
Statistics
Viewed 5,176 Times - Last Visitor from New York, NY on 09/19/2021 at 7:07 PM