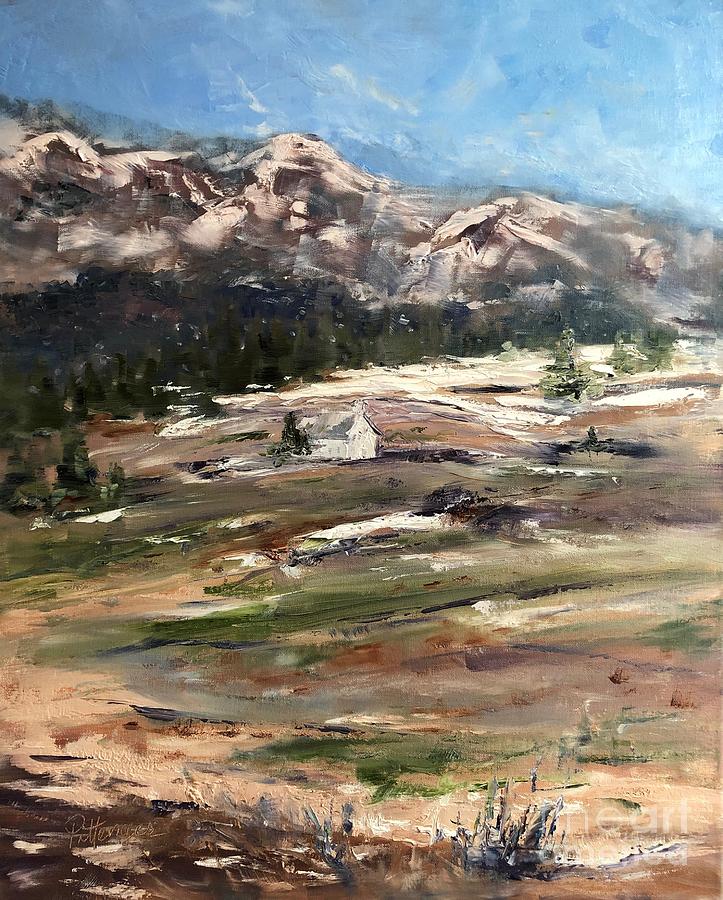 Little White Church On The Hill is a painting by Lori Pittenger which was uploaded on December 20th, 2018.
Little White Church On The Hill
A loose palette knife painting of a little country church. It is an iconic building that sits up on the hillside. In winter, the painted white... more
Buy the Original Painting
Dimensions
16.000 x 20.000 inches
This original painting is currently for sale. At the present time, originals are not offered for sale through the Fine Art America secure checkout system. Please contact the artist directly to inquire about purchasing this original.
Click here to contact the artist.
Title
Little White Church On The Hill
Medium
Painting - Oil On Linen
Description
A loose palette knife painting of a little country church. It is an iconic building that sits up on the hillside. In winter, the painted white church blends in against the snow dusted landscape, yet it captures the eye undeniably while passing by on the freeway, prompting thought. A simpler time, people savored a break from work, a time to be with family and community, pray and reflect on the God-given blessings in one's life. Although it is wonderful to gather on a Sunday in a church environment, often that is not possible for many. However, a building is not necessary to pause, pray, reflect on one's blessings and give thanks. These little white churches on the hill are gentle reminders to bow our knee and know that we are not alone.

Actually, always thought this was a little white church, but in researching info about it, discovered it was actually a school house, then later became the Swauk-Teanaway Grange for a rural community, a meeting place for a variety of events that bring people together. How lovely all the shared moments many have enjoyed there. Like a church community, it is about the people gathering in love and support of each other, prompting feelings of goodwill and gratefulness, therefore will keep my title as it was painted with this as my theme. Many do not have this sort of support in their life or community, thus "The Little White Church on the Hill" serves as a beacon of hope for what is to come...what can be…
Swauk-Teanaway Grange #984 was organized June 24, 1931 by Ira Shea, organizer of the majority of the local granges in Kittitas County. The 45 charter members were farmers and ranchers whose descendants still call the Swauk Prairie/Teanaway area home, such as the Hansons and Schobers; or whose names live on in road signs such as Bettas, Hartman, and Micheletto. These names also appear on the records for the Ballard School, District 9, a one-room school named for the family that donated the land to the school district in 1904. When rural districts were consolidated in 1937, the school became the meeting place of the Swauk-Teanaway Grange.
In 1947 the land and building were deeded to the Swauk-Teanaway Grange and for more than 60 years the Grange Hall was center of activity for the rural community in upper Kittitas County. Thousands of people have come through its doors for dances and dinners, meetings, weddings and memorial services, birthday parties, reunions and anniversaries. The Grange Hall served the Swauk Teanaway community, but it was also a distinguished landmark for Kittitas County. The hall and the scenic valley it overlooked were one of the most photographed locations in the area.

Lori Pittenger Fine Art © Copyright. All rights reserved.

FEATURED in FAA Groups:

-Created By My Hands 12/2018

-Winter Wonderland 12/2018

-Images That Excite 12/2018

Uploaded
December 20th, 2018
Statistics
Viewed 116 Times - Last Visitor from New York, NY on 10/08/2019 at 6:38 AM
Comments (14)