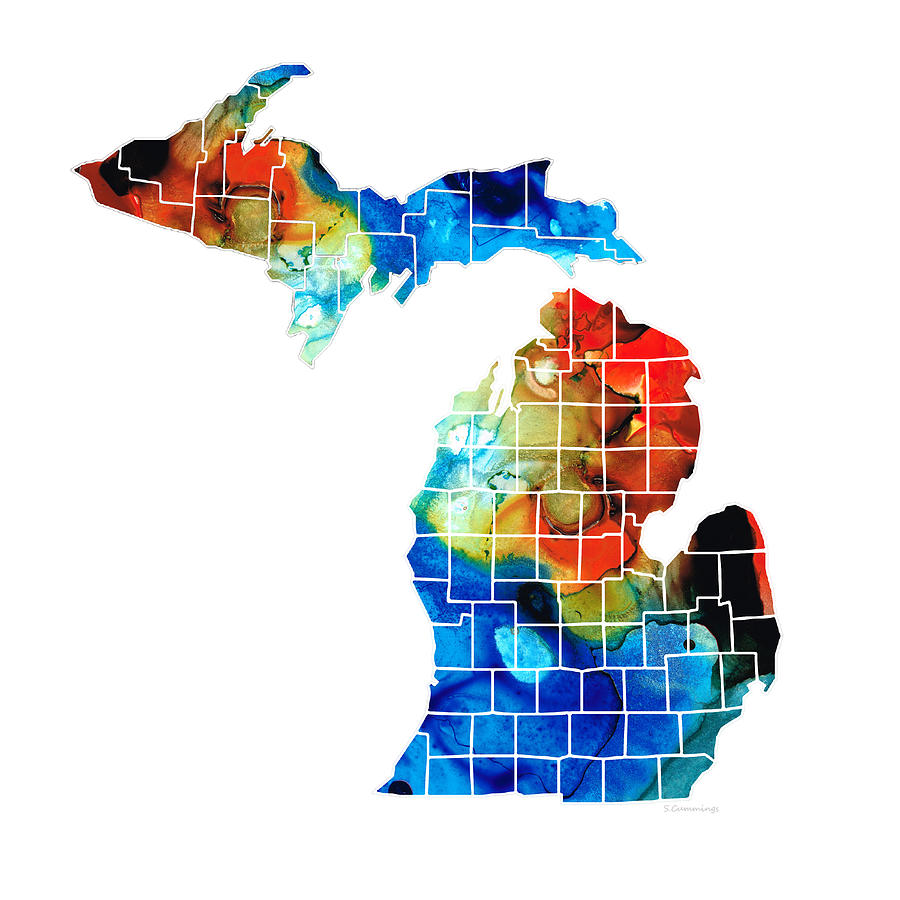 Michigan State Map - Counties by Sharon Cummings is a painting by Sharon Cummings which was uploaded on February 25th, 2014.
Michigan State Map - Counties by Sharon Cummings
Michigan State Map - Counties by Sharon Cummings.... more
Title
Michigan State Map - Counties by Sharon Cummings
Medium
Painting - Mixed Media Painting
Description
Michigan State Map - Counties by Sharon Cummings.

Michigan Listeni/ˈmɪʃɨɡən/ is a state in the Great Lakes region of the Midwestern United States. The name Michigan is the French form of the Ojibwa word mishigamaa, meaning "large water" or "large lake". Michigan is the 9th most populous of the 50 United States, with the 11th most extensive total area (the largest state by total area east of the Mississippi River. Its capital is Lansing, and the largest city is Detroit.

Michigan is the only state to consist of two peninsulas. The Lower Peninsula, to which the name Michigan was originally applied, is often noted to be shaped like a mitten. The Upper Peninsula (often referred to as "the U.P.") is separated from the Lower Peninsula by the Straits of Mackinac, a five-mile (8 km) channel that joins Lake Huron to Lake Michigan. The two peninsulas are connected by the Mackinac Bridge. The state has the longest freshwater coastline of any political subdivision in the world, being bounded by four of the five Great Lakes, plus Lake Saint Clair. As a result, it is one of the leading U.S. states for recreational boating. Michigan also has 64,980 inland lakes and ponds, and a person in the state is never more than six miles (9.7 km) from a natural water source or more than 85 miles (137 km) from a Great Lakes shoreline.

Buy Abstract Prints by Sharon Cummings, Fine Artist. From Original Paintings and Designs. Buy Art Online. Colorful Abstract Wall Art. Abstract Landscapes, Flowers and more...

FULL PORTFOLIO:
My Portfolio

The FAA-Watermark will NOT appear on any final product!

If you like my Art Gallery, please push the Pinterest, FB, Google+, Twitter or SU Buttons! Thank you!

All artwork in this gallery is the original artwork of Sharon Cummings. All Rights Reserved. It is for sale, copyrighted to Sharon Cummings and, as such, is protected by US and International Copyright laws.

Thank you for your interest in my artwork. I have been selling online for years and I absolutely love it! It has allowed me to sell my original paintings and prints to thousands of collectors worldwide. I have a Masters degree in Fine Art from The University of Tampa, but consider myself self-taught. True talent is revealed not through schooling but through painting.
Uploaded
February 25th, 2014
Statistics
Viewed 5,051 Times - Last Visitor from Cupertino, CA on 03/04/2021 at 10:20 PM