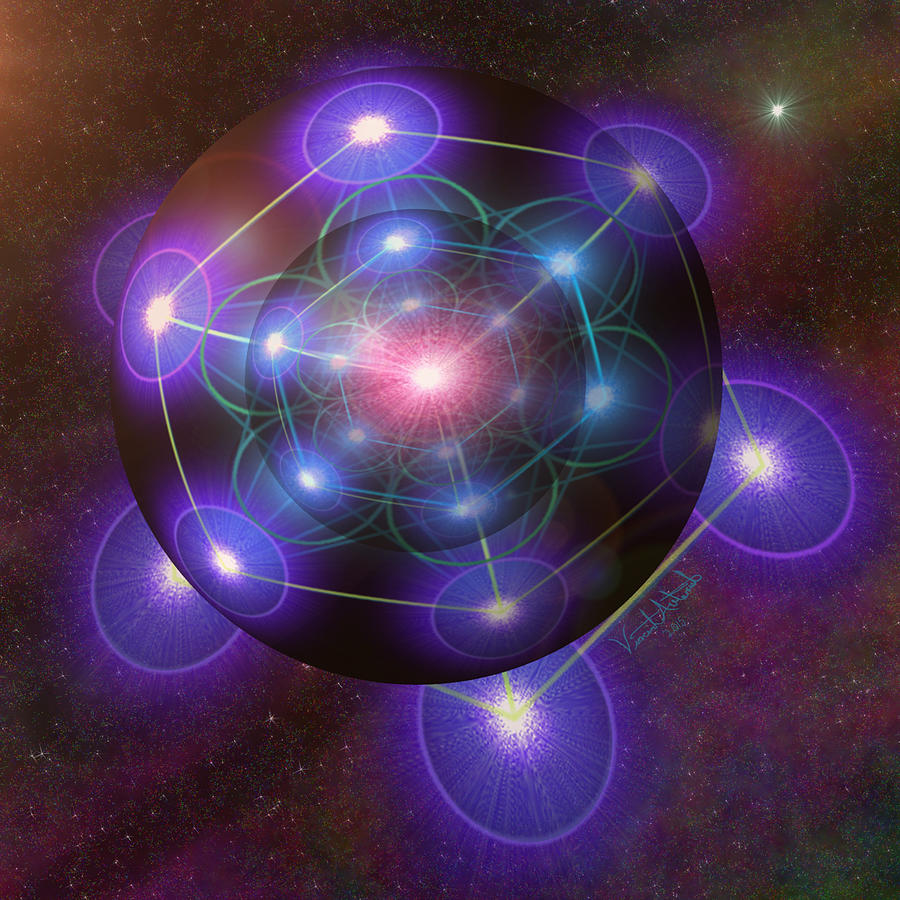 Mystical Metatron is a piece of digital artwork by Vincent Autenrieb which was uploaded on November 6th, 2015.
Mystical Metatron
This image is based on the Sacred Geometry known as Metatron's Cube (a sacred geometric figure composed of 13 equal circles with lines from the... more
Medium
Digital Art - Painting - Digital Art
Description
This image is based on the "Sacred Geometry" known as "Metatron's Cube" (a sacred geometric figure composed of 13 equal circles with lines from the center of each extending out to the centers of the other 12 circles). It is also commonly described as a variant of the "Flower of Life." The name "Metatron's Cube" makes reference to an angel named "Metatron" who appears primarily in mystical ("Kabbalistic") texts within the rabbinical Jewish tradition. In that tradition, he is the highest of the angels and serves as the celestial scribe or "recording angel" who keeps heaven's official records about everything that happens on Earth in human beings' lives, believers say, writing it all down in a place that some call heaven's "Book of Life" and others call the "Akashic records." Both names refer to the celestial record of all that has ever happened in the past, is happening in the present, and will happen in the future on Earth. The Zohar (the holy book of the mystical branch of Judaism called Kabbalah), describes Metatron as "the king of angels" and says that he "rules over the Tree of Knowledge of Good and Evil" (Zohar 49, Ki Tetze: 28:138). He is also mentioned in apocryphal texts including the Second Book of Enoch and the Book of the Palaces. These texts rank Metatron second only to God in the hierarchy of being. Some scholars including Johann Andreas Eisenmenger have portrayed Metatron as the means by which humanity was given knowledge of YHVH. This is one of a series of images I created based on Metatron and the Metatron Cube.

This image has been featured in the following Fine Art groups:
- New Age Spiritual ...11/13/2016

Thank you!

COPYRIGHT NOTICE
All the images of Vincent Autenrieb must not be reproduced or copied without permission and are subject to copyright. The images are original images by the artist and any reproduction, modification, publication, transmission, transfer, or exploitation of any of the content, for personal or commercial use, whether in whole or in part, without written permission from the owner is prohibited by international copyright law. All rights reserved. Providing attribution is not a satisfactory substitute for obtaining written permission. Thank you.
Uploaded
November 6th, 2015
Statistics
Viewed 729 Times - Last Visitor from Shenzhen, 30 - China on 06/24/2021 at 7:56 PM