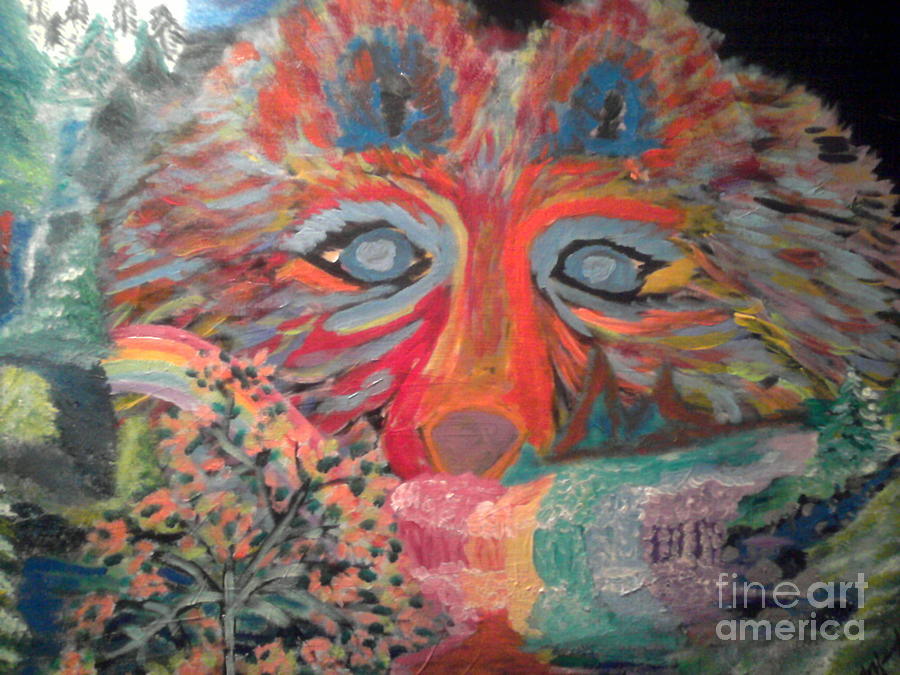 Nocturnal Survival is a painting by Catherine Herbert which was uploaded on January 25th, 2012.
Nocturnal Survival
Nocturnal Survival _RAW_ 1-25-2012... more
Dimensions
28.000 x 22.000 inches
This piece is not for sale. Please feel free to contact the artist directly regarding this or other pieces.
Click here to contact the artist.
Medium
Painting - Acrylic On Canvas Panel
Description
Nocturnal Survival _RAW_ 1-25-2012
Size Original "22 x 28" Canvas Panel
Acrylic Painting By Catherine A.Herbert
Painting Named by : Paul Mick
Rainbow Aphrodite Worldwide LLC

Wolves are primarily nocturnal animals that avoid the heat of day. They generally commence hunting at dusk.
Wolves detect prey by three primary means, sent (most common), tracking, and chance encounters.
After prey is detected, wolves may split up to search through brush, travel on ridge tops searching for the prey below, or test herds looking for signs of weakness.
"In fact, the only animal that habitually preys upon prime mature animals is man."
Wolves hunt out the weak, the sick, the old, and the injured. They help the population of prey animals like the elk, deer, moose, and caribou, by taking away the weak and letting the strong survive. This is important part in the ecological system. By enhancing the strength into the herds. Without animals like the wolf to eliminate the weak, old , sick and injured, the herd of deer would swelter. They would become so numerous that they would starve to death. The wolf helps keep them healthy by insuring the breeding of the strong.

Wolves also help feed other animals. When a wolf kills and eats, he sometimes can't eat it all. This leftover feeds animals such as the buzzard, the possum,fox, coyotes and eagles. They help keep the forest clean by removing the sick before it can spread.

~Wolf In The Rainbow~

To mountains old and worn
a beautiful child was born
As she grew, all could readily see
She had mystical strength and beauty

No one could control this spirited child
As she ran the winds free and wild
Her people wondered from the start
What could tame her wild spirited heart

Her many loves never seemed to last
Becoming mere shadows of the past
She walked a path of her own
wondering if she would always be alone
On a fateful day in time
Grandfather showed her a sign
Under the skies of a rainbow
A wolf was standing in the shadows

Shown by powers of Earth mother
Wolf in the rainbow is your brother
He will always be by your side
and will ever be your spirit guide

The rainbow now colors her life bright
guiding her spirit to peace and light
She learned through wolf spirit's eyes
and her heart grew worldly wise...


Rainbow Wolf showed ways of old ...
He became the guardian of her soul
Teaching her spirit to soar
She travels paths not known before


Her heart's destiny would not long wait
for by a mystical chance of fate
unexpectedly her love came
and lit an undying flame...
Guided by wolf in the rainbow
their love's ecstasy ever glows
Filled with passionate fury and desire
fanned by destiny's undying fire...

Written on the winds of fate
they will be forever soul mates
Whether they are together or apart
Her lover holds the secret to her heart

Now the secret, if you want to hear it
How did he tame her wild spirit...
Ask the wolf in the rainbow
He's the only one who knows...

Uploaded
January 25th, 2012
Statistics
Viewed 495 Times - Last Visitor from Las Vegas, NV on 10/11/2020 at 5:53 AM