Outward Bound is a drawing by Chris Gray which was uploaded on November 16th, 2016.
Outward Bound
Recommended Paper: ... more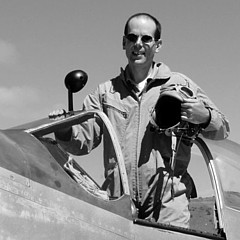 Dimensions
15.750 x 9.840 inches
This piece is not for sale. Please feel free to contact the artist directly regarding this or other pieces.
Click here to contact the artist.
Medium
Drawing - Graphite On Drafting Film
Description
Recommended Paper:
You will see there are many options to choose from if you decide to purchase a print from Fine Art America, including a broad selection of paper types. They each have their relative merits, but I would recommend 'Archival Matte Paper' to best capture the feel of the original drawing.

With the countryside of mainland Europe stretching out far below them, Capt. Raymond Withers leads his flight of P-51D Mustangs with his wingman Lt.Glenn Crum tucked in at his side. It is late November 1944 and the aircraft of the 356th Fighter Group are outward bound to meet up with planes of the 359th Fighter Group to complete another mission providing fighter cover. On this occasion the planned rendezvous would not occur as contact was never made with the other Group and so Withers would instead be vectored to Munster to engage two groups of Luftwaffe aircraft. The mission marked Withers' first as the newly appointed commander of the 359th Fighter Squadron, having transferred within the group from the 360th Fighter Squadron a few days earlier and also his first chance to fly with Crum as his wingman. Despite the missed meet up with their sister Group, the day would prove a successful one, as by the time the sound of returning Merlins was heard in the air over their home base at Martlesham Heath, Withers had downed a Messerschmitt Me109 and Crum damaged another.

Crum's P-51D 44-15177 OC-L 'Koyli Renee' and his Flight Leader's plane both carry a pair of 108 gallon drop tanks which were instrumental in giving them the range needed to reach far into the Reich and support and protect the bombers for greater periods. Along with the other units of the 8th Air Force, the 356th had implemented changes to their aircraft identification markings earlier in 1944, the end result being the eye catching scheme of a red band around the front half of the nose which extended along to top of the cowl back to the windscreen, all covered in blue diamonds. As these aircraft were assigned to the 359th Fighter Squadron they also sported yellow rudders and canopy frames. Withers' P-51D-5-NT 44-15195 OC-B 'Kathleen' was named after his wife and was the first and only P-51 assigned to him - the 356th Fighter Group had started out its tour in Europe operating P-47 Thunderbolts and Withers had got through three of them before switching to his North American steed.

Lt. Glenn Crum joined the 356th Fighter Group in September 1944 and stayed with his unit until late 1945 operating out of Germany in the latter stages when it became part of Army of Occupation when hostilities drew to a close. Crum went on to have a long career in the Air Force before retiring from military service in 1968 with the rank of Colonel having flown a total of 4500 hours. In contrast, Withers was one of the unit's old timers and had been with the Group since its beginnings in May 1943, going on to lead the 360th Fighter Squadron and then switching over to the 359th Squadron before his second operational tour came to a close in February 1945 with a final tally of four aerial victories. After the war he was integrated into the newly created USAF and, like Crum, went on to rise to the rank of Colonel serving as a command pilot and in many other roles for the remainder of his career in the USA and Japan.
Uploaded
November 16th, 2016
Statistics
Viewed 548 Times - Last Visitor from New York, NY on 08/08/2022 at 1:46 AM