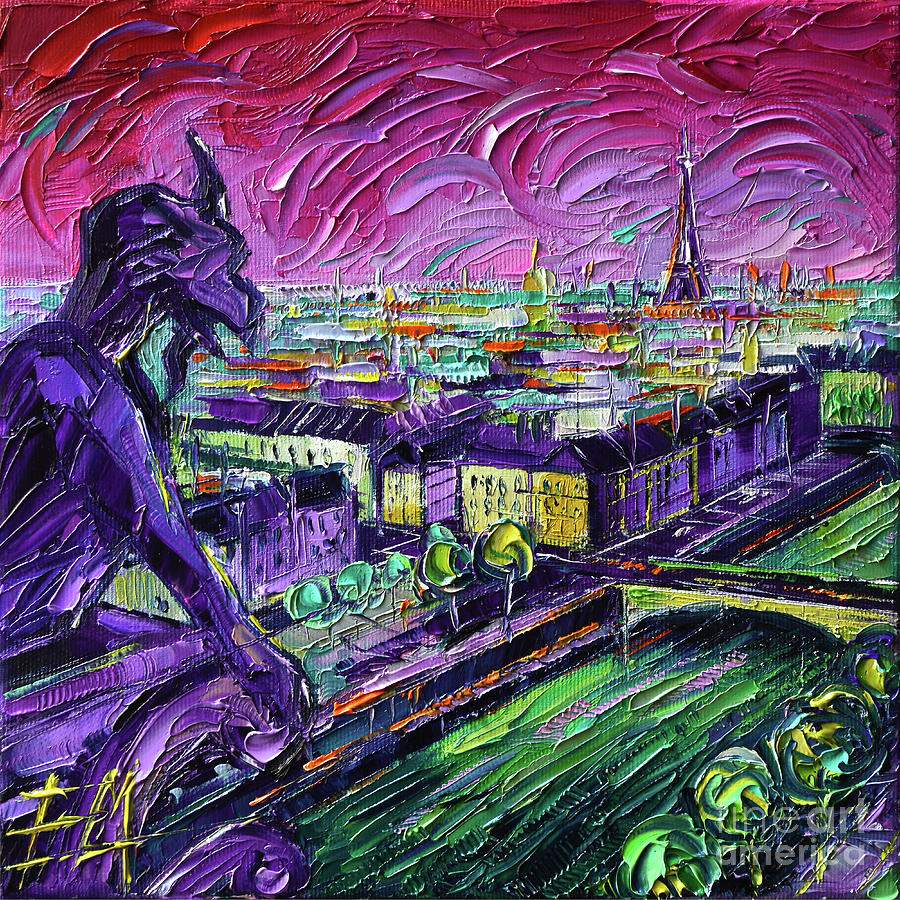 Paris View With Gargoyles Diptych Oil Painting Left Panel is a painting by Mona Edulesco which was uploaded on March 10th, 2019.
Paris View With Gargoyles Diptych Oil Painting Left Panel
Left Panel of Paris View with Gargoyles Diptych by Mona Edulesco.... more
Dimensions
25.000 x 25.000 x 2.500 cm.
This piece has been already sold. Please feel free to contact the artist directly regarding this or other pieces.
Click here to contact the artist.
Title
Paris View With Gargoyles Diptych Oil Painting Left Panel
Medium
Painting - Oil On Canvas
Description
Left Panel of "Paris View with Gargoyles" Diptych by Mona Edulesco.
Textural impressionist impasto palette knife oil painting on stretched canvas 25x25 cm (10x10 inches), 2019.
This painting is part of a diptych, you may order both canvases for the whole painting, or order a single panel as a stand-alone artwork.

---------------------------
The original has been sold to an art collector from Taiwan.
---------------------------
This stylized cityscape captures the impressive view overlooking Paris rooftops from Notre Dame de Paris Towers. I painted this work in a fantasy color palette which emphasize the dramatic atmosphere of the scene. The phantasmagoric mood is already conferred by the two stone creatures contemplating the panorama...
I often travel to Paris and I always find there my inspiration. This city has a special magic for me and I hope you can feel it through my paintings.

---------------------------
I have always loved to approach my urban paintings in a myriad of ways. I enjoy stylizing architectural forms in various manners. This has always been one of my goals, even a preoccupation from the time I was studying at the school of architecture until the present. The versatility of oil paint along with my prototypic work with palette knives allows me to play with the urban forms abstracting the city in an unconstrained manner.
---------------------------
In architecture, a gargoyle (from the french "gargouille", word meaning throat or gullet) is a carved or formed grotesque with a spout designed to convey water from a roof and away from the side of a building, thereby preventing rainwater from running down masonry walls and eroding the mortar between.
Gargoyles are usually an elongated fantastical animal because the length of the gargoyle determines how far water is directed from the wall. When Gothic flying buttresses were used, aqueducts were sometimes cut into the buttress to divert water over the aisle walls.
A gargoyle that is merely decorative, but doesn't carry water, is more properly called a grotesque, a boss, or, when it is a combination of two or more animals, a chimera.
Gargoyles and grotesques were supposed to protect those inside by frightening away any evil spirits or demons that might try to invade the building. They also served to remind the congregants, most of whom were illiterate, of the pervasiveness of the devil and his minions, the reality of original sin, and one's need for the protection of the church.
Uploaded
March 10th, 2019
Statistics
Viewed 328 Times - Last Visitor from New Delhi, 07 - India on 12/06/2019 at 4:07 AM
Comments (9)