Welcome to the TRAVEL ART group!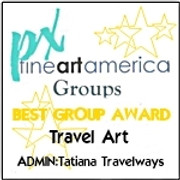 Travel art is a genre of art that documents an area of the World: landscape, people, cultures, customs and history.
'The Photographic Society of America defines a travel photo as an image that expresses the feeling of a time and place, portrays a land, its people, or a culture in its natural state.'
From the perspective of this group, this applies not only to photography, but to all visual art posted here. By visual art, I mean: high quality photography per se, digitally altered/enhanced photography looking artistic but realistic and hand made art.
Before you post, please read about the requirements of the group here below:
1. 100% Original Artwork (All Media) admitted only! ALL images have to be YOUR OWN!
2. This is a Family Friendly group!
3. NO SNAPSHOTS, or pictures that look like snapshots, please! Your photos have to have an artistic quality, so, at least a minimum editing is required. Read some more tips and
GUIDELINES
. * Overly edited images that look bad will be not accepted either.
4. Your travel pictures (photographs or paintings) have to give the viewers the SENSE OF THE PLACE, and tell a story about it. Show us REAL places of the World!
- Whether it's about people, landscapes, architecture, urban/rural life, etc., your pictures have to identify a specific geographical location.
5. The
LOCATION and COUNTRY
are mandatory! DO NOT miss those two items in your first line of description and keywords. Otherwise, your pictures will be rejected! *Please spell the name of the state or province!
** If a picture doesn't belong to a travel category (shown below), please don't submit it to the group - it will be removed.
No photo-compositions or false backgrounds and skies, and NO KITSCH or FAKE 'ART' PLEASE!!!!
** Please post your APPROVED images (featured or not), in the specific threads by Geographic Location, for further reciprocal promotion.
DO NOT OPEN NEW THREADS without my permission, PLEASE!!!
Travel Photography by Geographic Locations:
Pictures Of USA
Pictures Of Canada
Pictures Of Latin America
Pictures Of Europe
Pictures Of Middle-East
Pictures Of Africa
Pictures Of Asia
Pictures From Oceania
-----------------------------------------------------------------------------------------------------------------------------
Travel Art Group Activities
This group is a place where we PROMOTE EACH OTHER for better results in SALES! - Let People Know About You!
Post your FEATURED and Non-featured images (no rejected images though) to:
1.
Travel Art Galleries by GEOGRAPHIC LOCATION
(the list above).
*** PS: Please DO NOT OPEN NEW THREADS without my permission! ***
2.
Our Facebook group:
FAA Travel Art group
3.
Our board on Pinterest!
Travel Photography and Fine Art
... and,
Share The Pinterest Love
- Let's Repin Each Other!
4.
Our Blog:
TravelArtPix.com
. Travel Artists,
Please read this first
-----------------------------------------------------------------------------------------------------------------------------
Thank you for your participation and I really hope that you will enjoy this group :)
* ALL MEMBERS MUST FOLLOW THE MAIN RULES in FAA discussions
http://fineartamerica.com/showmessages.php?messageid=260080