Group Administrator
Join Group
Invite Others to Join
Group Overview
This group was started on August 22nd, 2013 and currently has:
RSS Feeds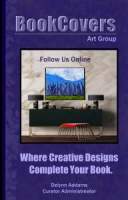 About This Group
WELCOME TO BOOK COVERS
Upload 1 image per day you think would make a great book cover. Book Covers are on so many topics they are basically limitless. Genres include: fantasy, travel, mystery, sci-fi, food, career, clothing, home decor, seasons, seasonal decor, westerns, holidays, art, politics, business, childhood, parenting, aging, boating, family, pets, wildlife, nature, water, sunsets, beauty, love, games, golf, famous people, cars, furniture, etc.. so many possibilities for covers, even Magazine covers, so please join us.
Just remember, most purchased covers are vertical and have room in the image for the title and author.
Group rules.
1) All mediums are welcome. Especially with text.
2) 1 image per day.
3) Art must be professional in appearance.
4) Art must be your own and not royalty images free or paid for, out of date copyrights,
nor family members, nor photographs of family members artwork/photograph etc.
5) OFFICE SAFE VIEWING: No famous people. no porn, especially minors etc, no signs.
No ugly art, dark witches, violent images or titled like images.
6) What is okay: covered lingerie, swimsuits and underwear are welcome.
7) Follow FAA rules. By joining you agree to FAA and this art group rules.
8) FAA art groups administrator has the final say.
Rules.
9) Emails are sent for group updates.
10) Nothing herein is to be considered legal advice. Please consult a professional. By joining
you agree to release me/kin from any faults.
11) See the discussions area for self-promos.
DISCUSSIONS AREA
DASHBOARD SELF PROMOTION.
12) All contests ties through this group are subject to be broken up.
DISCUSSIONS
Discussions Increase our group visibility & some increase your personal visibility!
When you post in the discussions area, your image shows up here on FAA.
CLICK HERE TO VIEW.
Christmas AND HOLIDAY BOOK COVERS
OLDEST IMAGE PROMOTION, promote your older images here.
LATEST WORK UPLOADED IN NOVEMBER .
IMAGE BY LETTER - great fun!.
PAY IT FORWARD
Make sure to visit this thread as often as you wish to promote others' and your art.
LINKS
VIEW IMAGES CLICK HERE
CLICK HERE TO MET THE MEMBERS.
Now your gift dates.
CLICK TO VIEW CALENDAR DATES
SPECIAL SELF PROMOTIONAL
Here are a few links to help self promote off FAA. Please read terms of host and group.
FB requires membership approval.
Interior Design Ideas Facebook Art Group.
Click here to join the Interior Design Ideas Facebook art group.
GIFT CARDS
Google+ does not require approval to post image.
EXHIBITOR'S ART SHOWCASE
HOLIDAY GIFT IDEAS