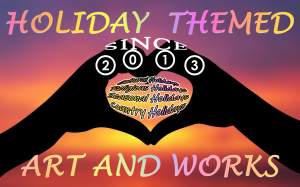 How many holidays are there? Each country has different holidays and themes as well as similar holidays and themes. This group is to highlight the international/national holidays of our great big globe. Just want to say in advance to all who are featured I have the honour of doing this for you not because of me but because of your fine and great talent so in advance I thank each and everyone for joining this group and submitting your work and rest assured I do look at each image and although I would love to feature all of them I try to pick what I feel is the very best out of them to display on the home page. I also want to thank all members who submit any work that is not put on the feature page as they are all great and it is very hard for me to decide sometimes which ones should be featured. You make up this group I am just the person who gets to enjoy and be amazed at all your wonderful talent.

RULES AND GUIDELINES FOR ENTRY

1. All media is accepted except adult content.

2. Please submit ONE IMAGE to the group. Make it your very best of the best!

3. No abuse of members in the group,

4. Feel free to put a description on your work to highlight just how good you are,

5. Have fun!