Group Administrator
Join Group
Invite Others to Join
Group Overview
This group was started on March 4th, 2011 and currently has:
RSS Feeds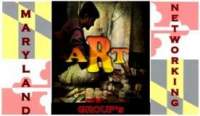 About This Group
Welcome to MD Art Net Group!
__________________________________________________________________________
This group is for all Artists in the Maryland and Surrounding Area who want to network, share their experiences and provide support to other artist, but especially the new and emerging ones!
I wanted to create a group where artists from the same geographic area can gather virtually and network with one another, but also, have the opportunity to meet in person and show support to one another by attending each others shows, exhibits, openings, etc.
This group is also to showcase the wonderful and varied talent that can be found in Maryland and vicinity.
NOTICE: IF YOU DO NOT LIVE WITHIN THE SPECIFIED GEOGRAPHIC AREA, PLEASE CONTACT ME FIRST BEFORE JOINING THIS GROUP. THE GOAL OF THIS GROUP IS TO BRING TOGETHER ARTISTS WHO LIVE CLOSE TO ONE ANOTHER TO SHARE INFORMATION ABOUT THIS SPECIFIC AREA, AND TO POSSIBLY MEET EACH OTHER IN PERSON, SO IF YOU LIVE IN ANOTHER STATE OR IN ANOTHER COUNTRY (unless you are there temporary) YOU WILL NOT BE ABLE TO CONTRIBUTE TO THIS GROUP\\\\\\\\\\\\\\\'S MISSION.
THANK YOU!
THE ADMIN
I am adding a restriction on the type of artwork that is acceptable in this group - Please do not join this group if your art consist predominantly of works that would NOT BE APPROPRIATE IN A WORKPLACE - contains mostly ADULT CONTENT.
If your collection has one or two adult content images, you may still be a part of this group, but you HAVE TO HAVE THE SAFETY FILTER TURNED ON!!
Thank you for your understanding and cooperation!
Please join our group, show of your artwork, network with one another, and give support!!!!
P.S. And as always, be vigilant about what you share and with whom, especially if you are going to meet in person!!!! (it is sad that statements like this need to be posted.....)
WELCOME!!!!!!!