Group Administrator
Join Group
Invite Others to Join
Group Overview
This group was started on December 2nd, 2016 and currently has:
RSS Feeds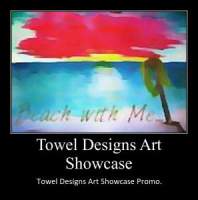 About This Group
Towels, all styles and types of art are welcome with less restrictions.
Hello and welcome customers.
Welcome to new artist and existing members, in this TOWELS group,
all media and subjects are welcome.
This group markets towels both beach, bathroom and kitchen etc. in all styles and subjects.
Photographs, paintings, digital custom initials/monograms and mixed are all welcome.
Pick an artist for personalized initials, comments or images.
Coordinate kitchens and bathrooms by refereeing to the complimentary group Tile Backslashes to match images or artists.
Please feel free to contact the artist if needed.
FAA Artist's Group Rules.
1) Follow FAA rules.
https://fineartamerica.com/showmessages.php?messageid=3565122
https://fineartamerica.com/showmessages.php?messageid=260080
2) By joining, you agree to FAA terms.
3) photos mostly so are questionable patterns.
4) Admin has the final say.
5) no rude, disruptive and violence of any kind.
6) no nudes or like images in support of OFFICE SAFE VIEWING.
7) no posting limit for now but subject to change.
8) no famous people.
9) art must by your own and not from royalty free, or paid for, images.
...these are the top main rules so also see the discussion are for rules and other information.
Be wonderful,
Delynn.
A FAA group administrator for the following groups.
SPECIAL SELF PROMOTION from Delynn Addams Art Group Administrator.
Here are a few links to help self promote off FAA. Please read terms of host and group.
FB requires membership approval.
Interior Design Ideas Facebook Art Group.
Click here to join the Interior Design Ideas Facebook art group.
GIFT CARDS
Google+ does not require approval to post image.
EXHIBITOR'S ART SHOWCASE
HOLIDAY GIFT IDEAS
Twitter
Interior Art News Feed
CLICK HERE VIEW LATEST TWEETS.
Holiday List.
https://www.timeanddate.com/holidays/us/
DESIGNER'S TRYST