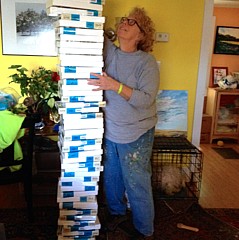 Carrie Jacobson Art Shop
Shop for wall art, home decor, apparel, and more featuring artwork from Carrie Jacobson.
At the age of 50, with no formal training and no previous desire, I began painting. I recognized immediately that I loved it and was good at it - better than I'd ever been at anything. I was working in New York when my mother died of cancer. Broken by her death, and looking for anything that would help me put myself back together, I grabbed onto the idea of painting when it came to me out of the blue one day. Once I started, I recognized that I'd found what I was supposed to do with my life. Six months after my mother died, my boss, who was a dear...
more