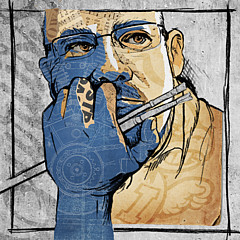 Clint Hansen Art Shop
Shop for wall art, home decor, apparel, and more featuring artwork from Clint Hansen.
CLINT HANSEN is an Iowa native and fifth generation artist designing and hand-crafting one-of-a-kind scratchboard renderings for gallery, commercial and home settings. His award-winning art is represented in private, public and corporate collections. ARTIST STATEMENT The truth of a story lies in the details. As a full time artist for over 31 years, the detail scratchboard allows in the sharing of a visual narrative has never failed to thrill me. The texture, precision, and the nostalgic feel of the medium draws me in. I get lost in the...
more