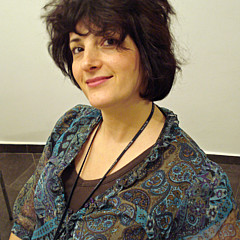 Albena Vatcheva Shop
Purchase canvas prints, framed prints, and more featuring artwork from Albena Vatcheva.
VIDEO PRESENTATION MY WORKS ON VIDEOSHOP ORIGINALS ON ARTMAJEUR SHOP ORIGINALS ON SINGULART SHOP ORIGINALS ON ARTSPER ALBENA-VATCHEVA-PAINTER.COM +33-616564974 INTERVIEW ART WEEK INTERVIEW ARTSILLUSTRATED I WANT TO THANK ALL THAT SUPPORT MY ARTWORK IN DIFFERENT WAYS. IT MEANS A LOT TO ME! If you are interested in any work, please contact me, I offer shipment anywhere in the world. I also can paint what you like, in my own personal style.BRONZE MEDAL FRENCH ARTIST' SOCIETY GRAND PALAIS PARISNUMEROUS PUBLIC ACQUISITIONS IN FRANCE'ALBENA is a young French artist of Bulgarian origin who...
more