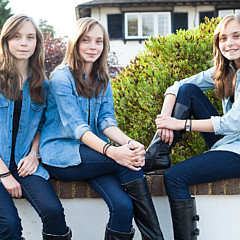 Art By Three Sarah Rebekah Rachel White Art Shop
Shop for wall art, home decor, apparel, and more featuring artwork from Art By Three Sarah Rebekah Rachel White.
We are Art By Three! Identical triplet girls aged 17 Thankyou for visiting our page...we hope you like our work We started painting at age 11 and quickly realised we not only had our own style but could adapt it to work together on one piece of art, each giving advice and opinions to our sisters. We also paint separately but find we are at our best when painting together....6 hands instead of 2! We particularly enjoy painting animals, urban scenes and landscapes but will have a go at painting or drawing anything. We started with watercolours but now enjoy using acrylics,...
more