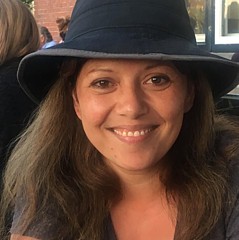 Bibi Snelderwaard Brion Shop
Shop for wall art, home decor, apparel, and more featuring artwork from Bibi Snelderwaard Brion.
Bibi S. Brion was born in 1973 in de Pijp, a vibrant multi-cultural neighborhood in Amsterdam, the Netherlands. She lived in Amsterdam until 2007 when she moved briefly to Tokyo, Japan. In 2008 Bibi married an American businessman and they moved to his home town in rural, northern Pennsylvania to assist in the care of his disabled father. Today, they live and work in a renovated farmhouse with their two and four-year-old sons.Always a self-starter, Bibi has performed in rock bands and worked in the media and fashion industries. She is a past regular...
more