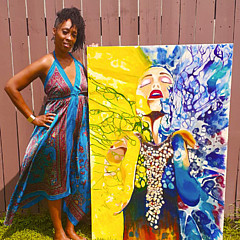 Femme Blaicasso Art Shop
Shop for wall art, home decor, apparel, and more featuring artwork from Femme Blaicasso.
Art is my Life, for me there is no other option from portrait subject such as the musical greats that influences my need for color and truly pushing the boundaries of true artistic experimentation. Im a cross between Erykah Badu, Bob Ross, Harriet Tubman and Mr. Wizard. I love what I do and Who I have become and who God is creating me to be. The processes are extensive, the texture is a main player and the though is to always keep pushing and Keep creating till I get to that place I want to be in Artistic Euphoria. People, places and History always seem to...
more