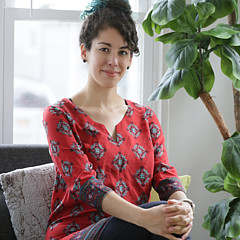 Christine Sloan Stoddard Shop
Shop for wall art, home decor, apparel, and more featuring artwork from Christine Sloan Stoddard.
Christine Sloan Stoddard is a Salvadoran-American author, artist, and film/theatre professional based in Brooklyn. Her books include Naomi & The Reckoning, Desert Fox by the Sea, Belladonna Magic, and other titles. She is a Visible Poetry Project filmmaker, Table Work Press award-winning playwright, and founder of Quail Bell Magazine. Previously, she was the first-ever artist-in-residence at Lenox Hill Neighborhood House in Manhattan and Brooklyn Public Library's Eastern Parkway Branch in Crown Heights.
more